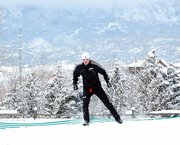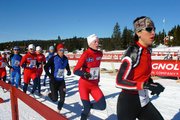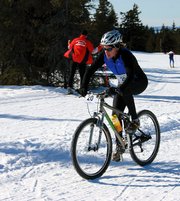 Nordic, snowshoe and multi-sport races
Jan. 6, Steamboat Stampede, Steamboat Ski Touring Center. 23K and 42K, skate and classic races.
Jan. 6, Turquoise Lake 20-mile Snowshoe Race, Leadville, CO
Jan. 14, Nordic Challenge Series, Vista Verde
Jan. 14, 5430 Sports Winter Triathlon, Devil's Thumb Ranch, Fraser
Jan. 20, Swift Skedaddle 10K/3K snowshoe race, Breckenridge
Jan. 20, Meadow Mountain 9-Mile snowshoe race, Vail
Jan. 21, Nordic Challenge Series, Steamboat Lake
Jan. 27, Nordic Challenge Series, Steamboat Ski Touring Center
Feb. 4, Nordic Challenge Series, Howelsen Hill Climb
Feb. 4, Frisco Goldrush 7K snowshoe race
Feb. 4, 5430 Sports USAT National Championship Winter Triathlon
Feb. 4, Summit Winter Triathlon, Silverthorne
Feb. 17, Steamboat Ski Marathon at Lake Catamount
Feb. 19, Steamboat Skiathlon. 5K classic followed by 5K freestyle race.
Feb. 24, Vail Night 5-Miler snowshoe race
Feb. 25, Nordic Challenge Series, Lake Catamount
Feb. 25, Summit Winter Triathlon, Breckenridge
March 3, Steamboat Pentathlon
March 17, North Routt Coureur des Bois. 45K and 90K marathon and ultramarathon cross-country ski race from Steamboat Lake to Wyoming border and back.
On the 'Net
- For more information on local Nordic Races, call the Steamboat Ski Touring Center at 879-8180 or visit its website, www.nordicski.net or the Steamboat Springs Nordic Council website, www.steamboatxcsk...
- For complete details and calendar of snowshoe, running and multi-sport winter races, including Front Range events, visit www.racingundergr... and www.active.com.
- Registration opens Jan. 1 for the 26th annual Steamboat Marathon, Half Marathon and 10K Run & Walk. Jody Anagnos, Steamboat Springs Chamber Resort Association special events director, reminds interested participants that although the race is not until June 3, many runners with New Years resolutions register early for the races, as spots fill quickly for the popular Half Marathon. 500 spots are open for the marathon and 1000 are available for the half marathon. Visit www.steamboatmara... for more details.
- Registration also opens Jan. 1 for 5430 Sports' summer triathlons, which includes the Steamboat Springs Triathlon on August 26. Registration also is open for both 5430 winter triathlons, Jan. 14 and Feb. 4 in the Fraser Valley near Winter Park. Visit www.5430sports.com for more details.
- For more information on the sport of triathlon, visit the website of the sport's governing body, USA Triathlon at www.usatriathlon.com. The website has information on the upcoming USAT Congress in Colorado Springs, from Jan. 9 to 15. The congress will feature a variety of clinics and workshops for racers and race directors alike. The Rocky Mountain Regional Board is sponsoring Steamboat resident and recent Ironman Florida Triathlon finisher Nicole Lindstrom on behalf of the Steamboat Triathlon Club to attend the conference.
Skate-ski or die
Kit Rice, sports coordinator for Steamboat Springs Parks, Open Spaces and Recreational Services said the March 3 Steamboat Triathlon is for everyone, "from people that just want to get outside to the hard core that do all the sports."
Whether you plan on competing as a team or individually on either the long or short course of the unique race that combines an alpine race followed by sections of snowshoeing, cross-country skiing, mountain biking and running, the new year is the perfect opportunity to start thinking about training.
"You need to stay active," said Barkley Robinson, last year's third-place overall individual winner. "The running is the hardest part and the biggest shock."
Because of the difficulty in getting outside to run, Robinson recommended building a conditioning base by getting plenty of skate-ski miles in and working in bike and running workouts as the race date approaches.
Kyrill Kretzschmar, Ski Touring Center coach and two-time All-American Nordic skier at the University Denver, said athletes considering racing the long course as individuals need to start training a minimum of six to eight weeks before the race at a minimum of two to three workouts a week while emphasizing skiing and running.
"You need to get in shape for the first hill climb," Kretzschmar said. "It's usually not the biking that gets you."
In terms of skate-ski fitness, Kretzschmar encouraged training at a comfortable pace where you would be able to talk to a partner, supplemented by an intense 20- to 30-minute pace each week at about 90 percent of your maximum ability. As the race nears, the workouts need to increase in length. Although the sport is guaranteed to improve core strength, beginners should seriously consider a few lessons in a sport where conditioning cannot make up for sloppy technique.
Visit www.steamboatspri... for more information on the race or contact the Ski Touring Center, 879-8180, for more information on lessons and its Masters training program.
Steamboat Springs' fanatically fit athletes have it easy.
At least in the summer time, that is. The Yampa Valley provides endless warm-weather exercise options that breed numbers of multi-sport enthusiasts and competitors.
Look no further than the growing ranks of the local Steamboat Triathlon Club or their marquee local multi-sport event, the Steamboat Springs Triathlon. Due to immediate growth in popularity of the second-year event, organizer Barry Siff had to increase the participant field this year from 400 to 600.
But blankets of winter snow that bury roads and trails create a few challenges for dedicated racers.
"Steamboat is at a disadvantage for training," said Joy Rasmussen, who recently was elected vice president of USA Triathlon's Rocky Mountain Regional Board. "You need to get miles on your (road) bike, and you can't get that until April, so you have supplement that with a lot of spinning."
Rasmussen also pointed to the importance of cross-country skate-skiing as the best cross-training for triathletes, in terms of "aerobic endurance, strength and overall physical workout."
Other athletes go for the snowshoes. Bill Goldsmith is looking ahead to a busy summer season of trail races, the June 3 Steamboat Marathon, as well as an ultramarathon. Goldsmith hasn't picked up skate-skiing yet, so he heads for runs on the some of the area's quality snowshoe trails, such as those on Mad Creek, Spring Creek and up Emerald Mountain.
"Expect your legs to be fatigued faster, you're using slightly different muscles in your shins," Goldsmith said. "But it will only translate to being faster without resistance."
Goldsmith uses a series of winter snowshoe races in nearby resort communities to keep his workouts motivated.
Athletes like Goldsmith who are ready to race now will have their chance with the growing fringe competition of winter triathlons. Siff's Boulder-based company, 5430 Sports, will host what he calls the "largest winter tri ever held in the U.S.," on Feb. 4 at Devil's Thumb Ranch, near the Grand County town of Tabernash.
Although this translates to a likely turnout of about 250 athletes, the event will be USA Triathlon's National and ITU Pan American Championship - meaning the top two competitors in each age group will qualify for the U.S. team for the World Winter Triathlon Championships on March 4 in Flassen, Italy.
Although the sport is most popular in Europe and is hoping for a bid at the 2014 Winter Olympics, Siff said the sport is gaining popularity in North America as more people become interested in Nordic skiing.
"People are beginning to see that Nordic skiers are the best-conditioned athletes in the world," Siff said.
Steamboat athletes who understand Nordic skiing's benefits are taking notice of the winter events.
Katie Lindquist, who teaches both skate-skiing lessons at Lake Catamount and spinning classes at Old Town Hot Springs, had always shied away from triathlon events because she didn't like the swim element. When she found out about Siff's event, which combines an 8K run, 15K bike and 10K ski, all on hard-packed snow courses, she was hooked. She's already signed up for both of 5430's winter triathlons.
The first event, a Jan. 14 winter triathlon, features shorter courses in the three disciplines at the Devil's Thumb Ranch Nordic trails.
On Saturday, Lindquist started training for her first triathlon by skiing the third 7.5-kilometer relay leg of the New Years Relay at the Steamboat Ski Touring Center. She then donned her running shoes for a jog downtown to Eriksen Cycles, where she works as the business manager. After grabbing her custom 22.8-pound mountain race bike outfitted with 29-inch wheels and knobby, tubeless tires, Lindquist headed out for a ride up Emerald Mountain.
Now she just has to learn to transition from the gear of one sport to the next.
Hadley Graham, a Steamboat local who races six triathlons each summer and is training for both 5430 winter triathlons and a pair of winter triathlons hosted in Summit County, recommended setting up the transition stages in logical order and practicing going from one pair of shoes to the next.
Graham also is training for the Yampa Valley's main multi-sport event of the season - the March 3 Steamboat Pentathlon. The popular race combines a 400-foot climb up and race down Howelsen Hill with a 2.5-mile snowshoe run, a 4-mile Nordic section, a 12-mile mountain bike ride and a 5-mile run.
While most athletes may not go through the rigorous training schedule Graham plans for the races - daily mountain bike rides up packed snow to the Emerald Mountain Quarry, weekly uphill endurance snowshoe climbs and participation in the Ski Touring Center's Wednesday and Saturday Masters Program. Many can step into the races one sport at a time in relay team divisions and shorter course options.
To racers like Rasmussen, multi-sport events come down to setting goals and creating a plan with the race in mind.
"Triathlons are about establishing a new attitude - accomplishing something you never thought you could do before," she said.
- To reach Dave Shively, call 871-4253
or e-mail dshively@steamboatpilot.com