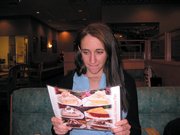 Acoustic Christmas
I finally got to see Brent Rowan - Steamboat Springs resident and beloved guitarist - at the Steamboat Grand Resort on Friday. He was performing with his best friend, Christian singer and keyboardist Regi Stone. If I wasn't in the nosebleed section, I maybe could have seen what Rowan looks like in person, but even from a distance I could see how talented he is.
The best part of the show was when Rowan's children and other children got on stage to sing "Jingle Bells." And I was delighted when the audience was allowed to sing along, too.
Johnny O.
There was a very disappointing turnout at Mahogany Ridge Brewery & Grill on Saturday night. Everyone must have been out of town.
There were only six of us on the dance floor, and most of the dancers reveled in the opportunity to use as much room as they needed.
Although Johnny O. was disappointed that not many people came out, he and his band played a rockin', bootie-shakin' show. I must have shook my bootie so much that my cell phone fell out off my back pocket - and it was never seen again.
Community Dinner
There were so many toys donated at the Community Christmas Dinner that there were too many to wrap, organizers said.
They encouraged each child in attendance to take two or three toys home, and they sent home some of the less fortunate with packages of food. If that isn't the Christmas spirit, I don't know what is.
My favorite person there was Ray Furbush, a Community Christmas Dinner first-timer who would not give a straight answer to any of my highly-crafted interview questions, such as, "Why did you come to the dinner?"
"I like to get fat, and it gets you ready for the Boston Marathon," he said. "And so I can meet people and give you a hard time."