How to help
To help area high schools in their fundraising, contact the schools:
Steamboat Springs: 879-1530
The Lowell Whiteman School: 879-1350
Hayden High School: 276-3761
Soroco High School: 736-2531
Deadlines for all fundraising are approaching.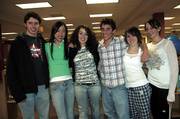 Steamboat Springs — Kristin Toy joined the El Pomar Youth in Community Service for the post-graduate bonuses, but the Steamboat Springs High School senior has found so much more.
Being involved in extracurricular activities and community service is attractive to college admissions personnel, which is what lured Toy to EPYCS. She has since discovered the program's additional benefits.
"You learn what being a nonprofit is and what philanthropy is all about," Toy said.
The EPYCS program is exclusive to high schools in Colorado. Nearly every public and private high school in Routt County has a program.
The El Pomar Foundation, established in 1937, has assets totaling $500 million. Each year, the foundation asks its EPYCS branches to raise $500, which the foundation matches with a $7,500 gift.
The high school students then decide how they want to divide the $8,000 in grant money among the nonprofits that apply for financial assistance.
Steamboat, South Routt, Hayden and The Lowell Whiteman School each have EPYCS programs.
The high school EPYCS programs establish mission statements each year to define a target population.
"We did a school-wide survey, and that let us know what is important to (the high school students)," Steamboat senior Max Pensack said.
This year's EPYCS mission statement for Steamboat highlights Routt County's performance arts programs, civil and community organizations that address integration awareness and individuals with special needs.
Scholarships for in-district students also are addressed in the mission statement.
South Routt's students have targeted, among other things, nonprofits that help address literacy, teen pregnancy, scholarships and the arts.
Hayden's students focused on, among other things, helping centers that aid victims of abuse, single-parent families and environmental organizations that provide outdoor education. Whiteman students want to allocate funds to nonprofit and educational programs that benefit health and human services, environmental conservation and cultural diversity. "I think the main piece is EPYCS is giving the students an empowerment," said Anita Allen, El Pomar Foundation adviser for the northwest region. "They have the opportunity to identify the needs in their community, whether that's basic needs, arts, or even recreational or environmental."
Students are asked to give back through awarding grants and completing a volunteer community project.
Each high school is in fundraising mode, trying to raise at least $500, which enables the EPYCS programs to receive the $7,500 matching gift from the El Pomar Foundation. Nonprofits are asked to submit all grant proposals to each EPYCS program online at www.elpomar.org. From the home page, it is possible to go to a specific region or school. Schools have started taking grant requests. Grant money is handed out next spring.
"I have to say, I'm so impressed with the level of maturity and social engagement high school students can have," Allen said. "They truly care about it and making a difference. That really speaks louder than words."