Under Construction
Read more about how
downtown and base-area construction
is transforming Steamboat Springs.
Going up: Projects likely to begin in 2007
The following are approved or likely construction projects that could begin throughout Steamboat Springs in 2007. City planner Jonathan Spence said Steamboat could see a total of 1.8 million square feet of construction in the next few years, pending plan approvals and building permits.
Downtown:
Howelsen Place, Alpenglow, Riverwalk, The Victoria, The Olympian, the expansion of Bud Werner Memorial Library, the new Soda Creek Elementary School and renovations to the Routt County Courthouse.
Ski base and mountain area:
Wildhorse Meadows, One Steamboat Place, Steamboat Barn Village, Sundance North Village, an expansion of The Porches, a 142-condominium expansion of The Village at Steamboat Springs, Bear Claw III residences near Steamboat Ski Area, Aspens at Walton Creek, Rocky Peak Village and several base area redevelopment projects.
West of downtown:
The new Steamboat Springs Community Center, continued work on the new Routt County Justice Center and several commercial and industrial buildings such as warehouses on Twentymile Road.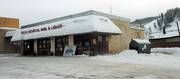 Steamboat Springs — Another large downtown development is one step closer to approval, and it's causing some concern among city officials about the impacts of widespread construction in Steamboat Springs next summer.
The Steamboat Springs Planning Commission gave positive reviews Thursday to The Victoria, a proposed development on the corner of Lincoln Avenue and 10th Street, currently the site of Rocky Mountain Wine and Liquor Company. Plans for the 32,650-square-foot Victoria building include seven residential units, 6,605 square feet of retail or restaurant space, 7,700 square feet of office space, underground parking and streetscape improvements.
"This is a very important project at a very important site," City Planner Jonathan Spence said. "The corner it's on has been beckoning for a building to come and grab it."
Spence and project architect Matt Wagar of Moon Hill Design presented Victoria plans to commission members, who praised the building's brick-and-sandstone design and architecture.
The project applicant is Wescoin L.P. of Steamboat, owned by Steve and Denise Peterson.
The three-story Victoria would fill nearly all of the large corner lot at 10th and Lincoln, and it would be the tallest structure in the vicinity.
A photo illustration relating the three-story Victoria to nearby buildings, such as the Hotel Bristol, caused commission member Dick Curtis to raise an eyebrow.
"There is going to be an architectural disconnect between old buildings and the new buildings downtown, but we'll have to deal with that," Curtis said, noting that The Victoria's scope is similar to other recently approved Lincoln Avenue developments such as Howelsen Place and Alpenglow.
The commission recommended approval of the project to the Steamboat Springs City Council, which is scheduled to review The Victoria on Jan. 16.
"The desire is to start construction the first of March and be completed by the end of the year," Wagar said Thursday.
Council approval would add The Victoria to a long list of approved or likely construction projects that could begin throughout Steamboat in 2007.
"We could double our (city's) population with the construction workers next summer," City Manager Alan Lanning said Thursday.
"That's a concern we all have," Deputy City Manager Wendy DuBord added. "Are there enough firms, and are there enough laborers?"
Commission member Dana Stopher pointed out that all those workers, who likely will come to Steamboat from across Colorado, will need somewhere to live.
"I have grave concerns about the amount of construction that will be going on next summer and where those workers are going to find housing," Stopher said. "It's going to be really crazy - and not just downtown, but in the entire community."
Also Thursday, the Planning Commission gave conditional recommendations of approval to a remodel in Riverside Plaza for a motor-sports store called Planet Power Sports, and to a warehouse at Betterview Business Park on 13th Street.
- To reach Mike Lawrence, call 871-4203
or e-mail mlawrence@steamboatpilot.com