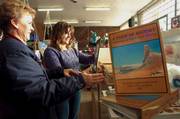 Their favorites
Wendy's Cappucino Muffins
2 c. flour
¾ c. sugar
2 ½ tsp. baking powder
1 tsp. cinnamon
½ tsp. salt
1 c. milk
2 tbsp. instant coffee
½ c. butter
1 egg
1 tsp. vanilla
¾ c. mini chocolate chips
Combine dry ingredients, dissolve coffee in warm milk, add butter and melt. When cool, add egg and vanilla. Stir dry ingredients with liquids. Fold in chocolate chips, fill 14 muffin cups 2/3 full. Bake at 375 degrees for 17 to 20 minutes.
Kelly's Corn Casserole
2 cans cream style corn
2 cans whole kernel corn
1 small can chopped green chili
4 eggs
½ c. flour
½ c. sugar
½ c. margarine, melted
1 c. sour cream
1 box Jiffy brand cornbread mix
1 c. grated cheddar cheese
Mix all ingredients together and bake at 350 degrees for 45 minutes.
To purchase the "Taste of History" cookbook, call Kelly Gates at 736-4475 or Wendy Palyo at 736-1013, or e-mail wpalyo@aol.com. The cookbooks also are on sale at Bonfiglio Drug in Oak Creek. The cost is $15 for one book or $13 a book when purchasing two or more.
Oak Creek — Flipping through the pages of the "Taste of History" cookbook reveals some interesting page partners.
For example, a recipe for Flattop Chokecherry Jelly shares a page with recipes for Fido's Favorite Dog Biscuits and Taylor's No Cook Play Dough.
But ultimately, the South Routt cookbook is a collection of family recipes, a little local history and a fundraiser for the Soroco Parent Teach Organization.
"A Taste of History: Celebrating our South Routt Heritage" combines 280 unique recipes from South Routt families, five pages of local history and historical photos of South Routt County bound with a three-ring binder and a hardcover featuring a painting by Stagecoach artist Jody Elston.
PTO member Kelly Gates said she got the idea for the cookbook after making one 20 years ago for a small girl's school in McCoy.
"What we wanted was an accumulation of 100 years worth of memories and recipes since Yampa just celebrated its (centennial) and Oak Creek is celebrating its 100th birthday in (2007). We thought it was a good time to compile it," Gates said.
The response from the community was overwhelming, PTO member Wendy Palyo said.
"We have recipes from the historical cooks in the county, from mothers and sons and from an entire class at the elementary school," she said.
As part of a class project, a group of fifth-graders each submitted a recipe for the cookbook.
"We have everything but the kitchen sink in there," Gates said. "It's really a unique thing."
Some of the signature South Routt recipes that made it into the book include ones using wild game meat, chokecherries and rhubarb.
"Rhubarb grows like a bad weed in South Routt," Gates said.
The money raised from cookbook sales will go to a fund that helps support South Routt teachers, administration and other staff, Gates said.
"Education is first to us. In the past we've been able to give out scholarships, purchase computer programs, atlases, maps and microscopes," she said. "We're the extra support that isn't included in the budget."