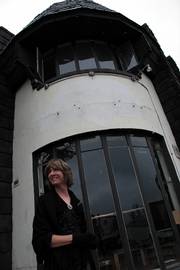 Steamboat Springs — Pam Pierce often wakes up the residents of the Doak Walker Care Center with her singing while she is working.
They are her biggest fans and were her first audience for the songs she will sing at her CD release party Sunday night at the Steamboat Springs Mountain Theater.
Pierce has been singing since she was young, but gave it up because she didn't have the courage to sing in front of people, she said.
Four years ago, things changed. "We went to visit relatives in Mississippi and got stuck in the house during a thunderstorm with the lights out and no power," Pierce said. "So we sang at the piano."
A relative encouraged her to try singing in front of an audience again. Soon after, Pierce met pianist Paul Potyen.
"The time just had to be right. Things happen when they are meant to happen," Pierce said. "I just wasn't ready earlier because I've been busy raising a family."
Potyen has been the catalyst behind her potential music career.
"He plays exactly the type of music I like to sing," she said. "He became my piano teacher, and a year and a half ago, I asked if he would help me make a CD."
Her album, "Believe It," is a collection of 16 warm and jazzy songs.
"I don't scream or do vocal gymnastics," Pierce said. "They are jazz standards with songs from several decades, and are both fast and slow."
Pierce has been getting back into performing in front of people during the past few years by joining Emerald City Opera's chorus and the Yampa Valley Choral Society and performing in "Cabaret."
"I've always known that I could sing, but I just couldn't put myself on the line," Pierce said. "I don't seem to get as nervous as I used to be. I know so many people in the town and am thinking it's going to be huge - and I will be ready for it."