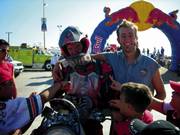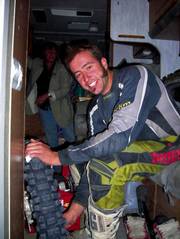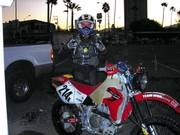 Travis Newbold awoke from a sleep-walking daze last week wondering why he had just dragged his bed across the room.
The days that have passed since he raced in the grueling Baja 1000 have not dulled his visceral memories.
"I couldn't sleep for nights after" (the race), the 23-year-old Routt County native said. "I had dragged my bed across the room, my hands were bleeding. I was thinking in the dream that I needed to get my bike out of the trail to not get run over by a trophy truck."
Newbold teamed up with Steamboat's Jeff Crochiere, 42, to accomplish a simple feat that escaped 46 percent this year's record field of 431 entrants in the 1,048-mile haul down Mexico's Baja Peninsula - finishing the race.
The pair not only finished, but they took 12th in their Sportsman motorcycle class. They finished Nov. 17 after just more than 30 hours of racing.
"The bike held together," Newbold said. "Well, I crashed in the first 100 miles, had a couple flat tires, two in the front, had a rear tire explode. But other than that, everything magically fell together. I think it was luck."
Newbold and Crochiere's luck began at 7:30 a.m. Nov. 16 at the race start in Enseneda, where they randomly pulled the No. 3 draw in their class of 53 riders. Because many of the motorcycle pro classes had already started the course, Newbold had to race the spectator-lined streets of Ensenada - slick with antifreeze - before hitting 70 miles of blinding desert dust.
"I prefer to charge hard early to pass people and get in front of the dust right away," Newbold said. "You're in a cloud and can't see, but you have to be as close as possible for a safe pass. I'd hit rocks the size of watermelons and scream like a schoolgirl - it's Russian roulette."
When Newbold finally broke free of the pack, he entered a grove of trees at about 60 mph and nailed a rock. The impact threw him over the bike's handlebars. But he suffered only a bloody finger and a broken visor and hand guard, so he mounted the Honda XR 650 for another 200 miles.
Crochiere took over at about 1 p.m. and cruised through the clear afternoon at high speeds as racers spread out along the course. Tire issues then became a factor.
"I rode down to the nylon core of the tire," Crochiere said. "The front tire was flat with a dozen broken spokes, and I had to go about 25 miles on it to our pit."
As night fell, Crochiere broke another spoke and flattened the replacement tube. Fortunately, the team met up in San Ignacio to get new rims and tires for the technical night portion of Crochiere's 400-mile stage.
Crochiere noted the 120 miles of beach dunes and steep talus slopes ravaged by erosion from an October hurricane. Aided with only a couple of halogen beams, Crochiere said it was the most challenging riding he has experienced.
"Those huge rock climbs are unmerciful when it's dark and trophy trucks and buggies are passing you," Crochiere said. "It's a mental game keeping your focus that long."
Amidst the trying, numbing night hours in the saddle, Crochiere rolled through a vivid scene in the town of Viscaino.
"There were people in lawn chairs partying and watching you come in on this two-mile road lined with nothing but bonfires burning in the middle of nowhere," Crochiere said.
Crochiere handed the bike off to Newbold in the dwindling hours of the night to get a much-needed hour of sleep.
Kept awake by the modified buggies on his tail, Newbold "put the hammer down" until sunrise.
"The night is brutal, it's like everything's out to get you," Newbold said. "But seeing the sun come up as I was dropping down into the Sea of Cortez was surreal."
Crochiere rode the final 100 miles into La Paz across sand arroyos and "silt beds that were like talcum powder."
"My son and our friends were at the finish where they closed a section of the highway," Crochiere said. "They inspect your motorcycle, but before you can shut off the bike the swarm of kids are on you. You also got to see the carnage of buggies coming in with blown-out axles and ATVs with their back ends broken off."
After 20 tanks of gas and eight air filters, Newbold and Crochiere got to take home a memento of their "dirty, filthy, sweaty, happy" finish - a tiny snap button that reads "Baja 1000 Finisher."
"That button means more to me than any trophy I've won," Newbold said. "I live for that hardware, there's nothing else in comparison."
Crochiere began the long 38-hour drive home satisfied to have achieved his objective and accomplished a physically taxing challenge on a set of five recently broken ribs. But then a thought began itching in the back of his head: "Now how much faster could we do it next year?"