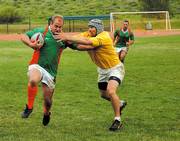 Steamboat Springs — The Steamboat Springs Rugby Football Club considered its season over two weeks ago after losing a second close division match to Vail, eliminating the club from winning the mountain division of the Eastern Rockies Rugby Football Union.
But after rebounding with a 65-13 rout over Glenwood Springs' squad in their last home appearance, Steamboat rounded out its season Saturday with a win over Breckenridge.
Team Captain Michael Hurley said conditions were terrible for the game.
Steamboat started the game off slow. Chris Bauman got Steamboat on the board, scoring two tries. Another score by Stephanus Nijsten put Steamboat up 19-5 at halftime.
"We scored two tries pretty quick in the second half and then put them away quickly," Hurley said.
The final score was 37-10.
The win ensured Steamboat a second-place finish in the mountain division, behind Vail.
"It was a pretty awesome season that was still a success, with just a few close games:we had a pretty full calendar," Hurley said. "In our last game we still turned it up and were able to go out on a high note."
Steamboat finished 11-5 overall and 5-3 in the division.
Hurley and nine other Steamboat players were picked to try out for the "select-side" all-star team that will represent the mountain division at the Aspen Ruggerfest on Sept. 14-17.
The others include Bauman, Kevin Morrisey, Max Clarey, Jimmy Gardiner, Able Varney, Nijsten, Johnny Rowe, Shane Dooley and Eric Wernig.
Steamboat team awards, presented at a banquet last week, included Morrisey, best forward; Gardiner and Clarey, best backs; Rowe, best and fairest; Bauman, most improved; and Nick Hotchkiss, coaches award.
Hurley said the coaches award goes to the player who "has the most heart, puts in the work, gets smashed and gets up and does it again."