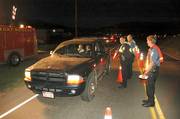 Steamboat Springs — Law enforcement officers throughout the county will be out in force for the long Labor Day weekend.
Steamboat Springs Det. Capt. Bob Del Valle said the police department will not be conducting DUI checkpoints, but will have saturation patrols in place to help handle what should be a very busy weekend for the city.
"Historically, Labor Day doesn't generally generate a lot of problems for us," he said.
Del Valle said the police department will have additional community service officers at the Wild West Air Fest on Saturday and Sunday and to handle traffic for the bull riding event at the Brent Romick Rodeo Arena.
"Because people are back in school and going back to college and in that mindset, we don't see a lot of drinking during (Labor Day)," he said. "It's not like Fourth of July, which has a huge potential for people to be drinking and driving."
Routt County Sheriff's Office Sgt. Ray Birch said the Sheriff's Office will have a "beefed up" presence of officers throughout the county to ensure people are enjoying the weekend safely.
"It's really hard for us to tell if we are going to have a lot of problems or not," he said. "Usually this time of year we're just busier because there are more people in town."
Colorado State Patrol Trooper Rick Kaspar said troopers will be working regular schedules and will continue to enfor-ce the Colorado Department of Transportation's "Heat is On" campaign to curb drunken driving.
"Troopers across the state will be out in force this weekend," he said.
Labor Day typically is a busy holiday for State Patrol because of the additional people who come to Northwest Colorado for the long weekend.
"It'll be busy for us," he said. "I like CDOT's slogan, 'If you're over the limit, you're under arrest.'"
To stay safe this weekend, local taxi companies such as Alpine Taxi are already making plans to accommodate the expected influx in visitors.
"We're putting extra drivers on this weekend through Monday night in anticipation of locals enjoying the last days of summer," said Bobby O'Toole, director of operations for Alpine Taxi.
O'Toole said wait times for a cab this weekend should be minimal and that riders should be patient when waiting for a cab.
"We're going to be doing our best to get locals and visitors from point A to point B as quickly as possible," he said. "If you're waiting for a cab, just call us to see where we are especially if you're hesitant about driving. Try not to be antsy or impatient because it's best you wait for a cab then drive when you shouldn't."
Jonathan Flint, operations manager with Steamboat Springs Transit, said there will be additional shuttles running from the Stock Bridge Transit Center to the Steamboat Springs Airport for the Wild West Air Fest on Saturday and Sunday.
"Parking is going to be limited at the airport so we recommend people park at (Stock Bridge), and let us take you to the front gate. It'll be pretty smooth," he said.
Flint said he does not expect the Labor Day weekend to cause much of a problem for buses because the city is keeping the summer bus schedule through the weekend. The city's fall bus schedule will begin next weekend, he said.
"It's a pretty popular weekend but we're going to be able to control that," he said.
- To reach Alexis DeLaCruz, call 871-4234 or e-mail adelacruz@steamboatpilot.com