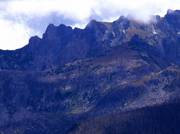 Steamboat Springs — The impact of the steady rain that fell on Steamboat Springs during the weekend is still being felt on area rivers and streams.
The storm front brought the first snow of the season, with a dusting in the highest elevations of the Mount Zirkel Wilderness and a white coating on Flat Top Mountain south of Yampa Sunday morning.
The Yampa River was flowing at a rate of 152 cubic feet per second on Tuesday morning, double what it was on Friday. That flow is well above the 96-year median of 105 cfs. The change can be attributed to .52 inches of rain that fell Saturday through Monday. The river had slipped below seasonal norms prior to the rain.
A weather station between Old Town and the base of the ski area reported .29 inches on Saturday, .09 inches on Sunday and .14 on Monday.
John Anarella, wilderness and trails coordinator for the Yampa Ranger District of the U.S. Forest Service, said snow fell in the Flat Tops beginning Saturday night and continuing into Sunday morning.
"Most of it melted by 1 or 2 p.m.," Anarella said. "But it was enough to make for some muddy roads on the second day of archery (hunting) season."
Anarella said the August snowfall in the Flat Tops wilderness did not come as a surprise.
"We've had it every month of the year (in different years)," Anarella said. "There is no norm for the Flat Tops."
- To reach Tom Ross, call 871-4205 or e-mail tross@steamboatpilot.com