Photo Gallery
Tour of Soda Creek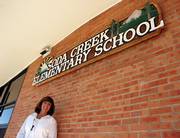 An audit presented to the Steamboat Springs School Board in April cited many problems with the facilities at Soda Creek Elementary School, which are a result of its age and configuration. This gallery shows some of those problems.
Steamboat Springs — Steamboat Springs voters will decide Nov. 7 whether to approve nearly $30 million for construction of a new building to replace Soda Creek Elementary School and an expansion of Strawberry Park Elementary School.
The Steamboat Springs School Board unanimously approved two ballot questions Monday night, both of which will ask voters to increase property taxes to support the Steamboat Springs School District. The larger question is a long-term bond for a maximum of $29.7 million to fund the elementary school improvements.
Although the School Board had initially discussed a bond issue of $28.5 million for the elementary schools, Director of Facilities Rick Denney presented plans Monday night that would add two kindergarten classrooms in each school, for a slightly higher cost.
The board approved ballot language containing the $29.7 million price tag.
"I feel the cost differential is minimal for the extra classroom space," Superintendent Donna Howell said.
Board President Tom Miller-Freutel, in his final meeting as a member of the board, praised Monday night's decision.
"The community has spoken very clearly and said it wants a school at this site," he said, referring to Soda Creek. "This is an extraordinary opportunity - we are at a very opportunistic moment in the district's history."
Board member Pat Gleason echoed that sentiment.
"If this (bond issue) passes, all four of our schools will be in essentially 'as new' condition, which would be amazing," Gleason said. "We would be able to provide the classrooms we need to maintain small class size."
A second ballot question will ask voters to support teachers and staff in district schools. If approved, a permanent property tax increase known as a "mill levy override" would generate $600,000 in 2007. That amount would increase by $25,000 annually until 2015, after which the amount would be capped at $800,000 per year.
That money would fund "attracting and retaining quality educational staff," according to ballot language approved Monday night. Howell and board members agreed that the wording refers to a variety of improvements for local teachers and staff, including salary and benefit increases, housing assistance, and training programs.
The School Board removed a line from the mill levy ballot question that would have allowed revenue to be spent while "providing funding for district programs," citing concerns that the language is too vague.
"The school district will be very responsible with this money," Miller-Freutel said.
The School Board also hopes to be responsible with construction at the new elementary schools, should voters approve the bond issue. Board member Jeff Troeger expressed strong concerns that energy efficiency and traffic congestion needs be met in the design of the new Soda Creek, citing a school that would hopefully last 50 years.
Miller-Freutel directed Den-
ney to implement environmental conservation techniques and address traffic flow in the school's design, should voters approve the funding.
"We should be trying to anticipate energy costs," Troeger said. "I want this to be the most energy-efficient building in this area."