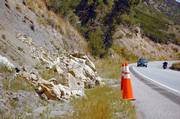 Steamboat Springs — A rockslide closed U.S. Highway 40 near Hayden for about three hours early Friday morning.
Colorado State Patrol Trooper Jeff Vrbas said several small- to medium-sized boulders slid onto the highway at about 2 a.m. near mile marker 114. The location is near the entrance to the Mount Harris canyon.
Routt County Sheriff's Office deputies moved some of the debris off the road to allow some traffic to pass, Vrbas said.
However, deputies were not able to remove some of the larger boulders - which were about 2 feet in diameter.
Colorado Department of Transportation crews cleared the remaining rocks from the road by 5 a.m., Vrbas said.
No damage was done to the road, and no passing motorists were injured as a result of the rockslide.