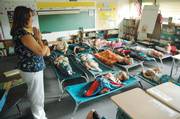 Yampa — When he worked in Oklahoma, Michael Young's first day of school always involved shedding his tie and loosening his collar to seek relief from the 100-degree heat.
Thursday's temperate weather in South Routt County meant Young could concentrate on his duties as the new principal of South Routt Elementary School.
It also was the first day of school for the district's 210 elementary students. Lunch on Thursday consisted of a barbecue beef sandwich, french fries, fruit, a cookie and milk.
"It's good," Young said, sitting at a table as students filed out of the lunchroom.
Students and teachers seemed to think the school year got off to a good start.
"The first day of school is like the first day of school everywhere," said Young, who has been an educator for 25 years and spent the past nine years at an elementary school in Perry, Okla. "They come back with their new shoes, new backpacks. They're excited to be back."
Young spent the morning visiting all the classrooms so the children could associate him with being "Mr. Young, the new principal," he said. He was impressed with the students because "they're very polite."
"Kids are pretty much the same everywhere, but it's interesting to see the culture difference," Young said. "They have that Rocky Mountain dress to them."
Young said he would join the students this year in the learning process.
"I like studying my first year and learning and seeing what we need to do," he said.
Thursday was more than just the first day of school for third-grader Eric Logan and fourth-grader Josiah Chikalla. Eric moved to South Routt from Steamboat Springs. He said he was a little scared coming to a new school, but "it's been good."
Josiah, who likes to climb trees and play video games, said he just moved to Yampa from Oregon.
"I'm used to this high of elevation because I'm in trees most of the days," Josiah said.
He said his teacher told him he talked too much Thursday, and he already had made some friends, including fourth-grader Tyler Enger from Oak Creek. Josiah was wearing new Nike shoes and was eating lunch out of his new Superman lunchbox.
"My other one was growing fungus," Chikalla said. "That is when my mom decided to get something else."
One of Mrs. Shanklin's kindergarten students, Aidan Cantele, left his coat on the bus, and Young taught him what it meant to go on an adventure by taking Aidan to the bus barn to find his coat.
"He found it, so he can relax the rest of the afternoon," Young said.
Kindergartners were learning more than just what it meant to go on an adventure.
Shanklin told her students a "gross" story about a former student who stuck a piece of foam up her nose. The student could not get it out, and she did not tell anyone about it. The foam in her nose started to smell three weeks later.
"Never, never stick anything up your ears or nose because it can make you very, very sick," Shanklin told the kindergartners after naptime.
No one got sick Thursday, school nurse Renee Johnson said.
But a couple children came to her office with minor abrasions and scrapes from falling. Those injuries are common this time of year, Johnson said.
"Fall and spring, that's when we hit the pavement," she said. "Then we hit winter and they're all cushioned."