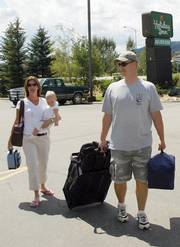 Steamboat Springs — School is back in session in many Colorado schools, and high gas prices continue to make people cringe at the pump.
Nevertheless, the number of people expected to spend tonight in Steamboat Springs lodging properties is up compared to the same weekend last year. And the trend of increased summer tourism is expected to continue into the Labor Day weekend.
Occupancy estimates and sales tax revenue receipts help support a general feeling among locals and those in the tourist and service industries that this has been a busy summer. Holiday Inn general manager Barbara Robinson said this has been a record-breaking summer season.
"It was more than fabulous," Robinson said. "Families are back traveling. Last year they seemed to be a little more cautious."
Occupancy at the hotel was up for the June, July and August period compared to the same period last year. Except for Sundays, she said the hotel was constantly booked solid.
"It sounds like it's time to expand," Robinson said.
Robinson said 12 percent of her business was from people in town for Triple Crown Sports baseball and softball tournaments. About 36 percent was family vacations and people in Steamboat for leisure. She said 52 percent of the people staying at the hotel were traveling on business.
"We have seen an increase in people here on business," Robinson said. "When business is up in Steamboat, it brings that many more people in town."
Tonight, 6,500 people are expected to spend the night in area lodges, according to the Steamboat Springs Chamber Resort Association's lodging barometer. The estimate is gathered by polling lodging companies. On the corresponding Saturday night in 2005, 5,303 people were estimated to have spent the night in Steamboat lodges.
Chamber spokeswoman Riley Polumbus said there typically is a slowdown in the number of people visiting Steamboat between the beginning and end of August. Things then pick up for the Labor Day weekend.
Early projections for the Labor Day weekend call for a slight decrease in the number of people staying at lodges. The barometer estimates 5,900 people in town for the holiday weekend - a 6 percent drop from last year. Polumbus said with the many events scheduled for the weekend, more people may decide to visit.
"I think it's too early to tell," Polumbus said. "We could still see that spike as we get closer to the weekend."
Labor Day events include the Wild West Air Fest on Sept. 1-3 at Steamboat Springs Airport. The event will feature as many as 25 World War II-era vintage planes and some of the newest planes in the skies.
"It's going to be worth taking a look and bringing the kids," Polumbus said.
Steamboat also will host the Rocky Mountain Bull Bash Pro Bull Riding, a circus and the Steamboat Stock Dog Challenge. Oak Creek also has scheduled five days worth of activities surrounding the Labor Day holiday.
- To reach Matt Stensland, call 871-4210 or e-mail mstensland@steamboatpilot.com