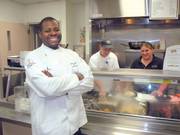 Steamboat Springs — This fall, Steamboat Springs will lose an acclaimed culinary staple when Jacques Wilson leaves his post as Yampa Valley Medical Center's executive chef and director of food services.
Wilson said Thursday that he will continue working at the hospital until Sept. 6. On Sept. 7, Wilson plans to head west with his wife, Cheryl, and 8-year-old daughter, Ashley, to Monterey, Calif. Wilson has accepted the position of executive chef at the famed Sardine Factory Restaurant - a Monterey fixture since 1968 that Wilson says has "been serving abalone bisque since Day 1."
"I think it will hit once I'm there and the winter starts," Wilson said after a busy Thursday making mango shrimp and beef satay hors d'oeuvres. "I've had a lot of long friendships here with a lot of good people."
The 43-year-old Connecticut native attended the Culinary Institute of America in Hyde Park, N.Y., and moved to Steamboat in 1988, accepting a position at the Vista Verde Guest Ranch in North Routt County before working as the Sheraton Steamboat Resort's executive chef and teaching as a culinary adjunct instructor at Colorado Mountain College.
In 2003, Wilson was one of four chefs awarded a Chef of the Year Award from the American Culinary Federation's Western Region.
"He's great," said Scott King, the executive chef at the Sheraton. King was Wilson's executive sous chef for nearly eight years. "He had the single most influence on my career. He was a mentor that taught me to be a career chef and not a cook. They used me for a reference for his new position, so it all came full circle."
Looking back on his work at the medical center, Wilson said he will most miss his kitchen crew and the days spent feeding the residents of the Doak Walker Care Center.
"It's about whatever joy you can give them through food," Wilson said. "Being in the industry, you don't see that every day. It's a real blessing."
Because Monterey is home for his wife's family, Wilson thinks the transition to life in California should be smooth.
But first, he had to think about heading home to cook dinner for his family.
"That's what I do - I cook," he said.