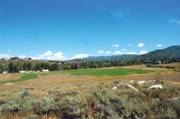 Steamboat Springs — City planners have recommended approval for a residential subdivision on a 39-acre site including the historic More Barn, north of Central Park Drive and east of Pine Grove Road.
The Steamboat Springs Planning Commission discussed the preliminary plat, or site layout, for Steamboat Barn Village at length Thursday night before recommending approval with a 4-1 vote. Commission chair Kathi Meyer and members Tracy Barnett, Steve Lewis, Nancy Engelken and Scott Myller were present.
Engelken cast the lone 'no' vote, citing concerns with the subdivision's unresolved community housing plan and an unresolved issue regarding a road connection to Yampa Valley Medical Center, which borders the site on the south.
Commission members questioned development consultants Patten Associates Inc., about plat details including road access, landscaping, vegetation and tree preservation, water and sewer access and housing density.
The recommended approval means that the Steamboat Springs City Council likely will next address the preliminary plat for Steamboat Barn Village at a meeting Sept. 5.
Tom Leeson, director of city planning services, said the council will discuss the subdivision at two separate meetings, as the council has done with other large-scale developments such as One Steamboat Place and Wildhorse Meadows.
The two council discussions of the preliminary plat for Steamboat Barn Village will be the final public hearings before construction of the subdivision, should it be approved, Leeson said. Building size and development plans are regulated by city zoning laws.
Approval of the subdivision's final plat would be "administrative" and not a public hearing, Leeson said.
The proposed site for Steamboat Barn Village is known as the More Barn property. The site is a mostly undeveloped hay meadow traditionally used for horse pastureland. The development proposal encompasses 63 residential lots containing a total of more than 90 units, including single-family homes, duplex housing and townhomes.
The site layout also includes a four-acre park site surrounding More Barn, which would be restored and opened for permanent public access should the City Council approve the project.
"We're here tonight to say that we will not move the barn," said Scott Woodford of Patten Associates, Inc.
Project applicant Steamboat Springs Holdings II, LLC, managed by Robert Comes of Saratoga, Calif., has offered to donate $50,000 to help restore the barn. That number could reach $150,000 with matching grants from the city.
Whether those funds could be accessed in time to provide "emergency stabilization" of the barn before this winter is unclear, said Linda Kakela, city director of intergovernmental services.
Also Thursday, the commission also approved a final development plan for a 4,400-square-foot tool sharpening and small-engine repair facility owned by Precision Sharpening on Twentymile Road, and a request to split two lots in the Rendezvous Trails subdivision near Ridge Road.