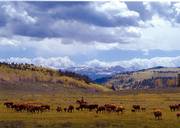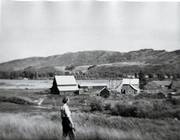 Steamboat Springs — Jay Fetcher won his first and only ski race on his own ranch in Clark.
"It was the second ski area after Howelsen Hill," Fetcher said. "The rope tow was built by tractor, and the Clark neighborhood would come over every weekend, and we would have great adventures."
Fetcher will talk about these escapades and the history of his family in the Yampa Valley at noon today at the Brown Bag Lecture at the Tread of Pioneers Museum.
"We had ski competitions with the Yampa and Mount Harris schools," Fetcher said. "We could beat them in skiing, but they would beat us in basketball because they had a real gym."
Fetcher was able to ride his horse to school. School served as the social center of the community.
"Just like the old stories of rural living, we would go to town once every two weeks or once a month," he said. "It's a pretty unique experience I think, just the idea that we worked as a family and as a community to make the ranch work. That's something not many people experience anymore."
The Fetcher family also helped shape the ski area.
"Our tractor would put up ski lifts like the Thunderhead Lift. Our family's machinery helped in putting up all those lifts," he said. "And if I didn't have to milk the cows, I would help clear ski runs."
The Fetcher family contributed to the early ranching community in the valley as well. Fetcher's father, John Fetcher, moved here in 1949 even though he knew nothing about ranching or cattle.
"He decided to do what lots of people dream of - become a rancher," Fetcher said. "I was 2 years old (when we moved) and had my second birthday in the Nite's Rest Motel. I'm not going to be happy the day that goes down."
Fetcher has worked to help preserve the ranching community by putting a conservation easement on the family ranches and by helping to form the Colorado Cattleman's Agricultural Land Trust.
"Promoting the land conservation effort is an important part of what I've done and continues to be," Fetcher said.
The valley has changed a great deal since his childhood, but he believes the people in Routt County have done a good job of preserving the surrounding area.
"Obviously there is change and there will continue to be change, but we still have the basis of who we are," Fetcher said. "Unlike Vail, we will always have a town with a strong sense of community and a strong sense of volunteerism. And it's nice to have better restaurants and go to first-class movies that we didn't have when I grew up."
- To reach Allison Plean, call 871-4204 or e-mail aplean@steamboatpilot.com