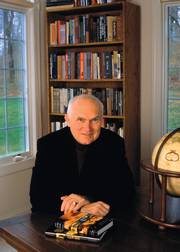 Steamboat Springs — In order to fight a diffuse enemy over a long period of time, retired Maj. Gen. Robert Scales thinks the American military needs to change most of its current practices.
"How we fix the problems we are facing is going to require that the military change the way it educates, trains, recruits and spends money," Scales said. "All of these things need to be changed very quickly.'
Scales has served more than 30 years in the Army and fought in Vietnam, the Gulf War and the Iraq War. He is now a military analyst on Fox and NPR news, has a Ph.D in history from Duke University and has published five books as an authority on contemporary and future warfare.
Scales will speak on Tuesday at the final Seminars at Steamboat on the topic of "Current Issues in Iraq and Lessons for America's Military." He attributes the problems with how America has been fighting its wars to its fixation on technology.
"One of our failures is we've been trying to fight a war with technology, when most failures have been human and not technological," Scales said. "The human mistakes have included everything from knowledge of language, cultural awareness, the difficulty in training our young soldiers to fight in an alien environment, I can go on and on."
Scales will talk about the human component in war and what the United States needs to change in its policies in order to win. For many years now, America has been fighting irregular enemies, he said.
"The lessons have been repeated year after year and war after war," Scales said. "I will talk about the situation in Iraq, Afghanistan and Lebanon and what the American military needs to do in the years ahead to better fight the war on terror."
After Scale's presentation, there will be a short reception and an opportunity to ask him questions.
"We need to win the war, not the battles," he said. "We have to maintain an army that has legs and is able to stretch itself into the future."