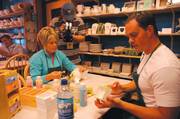 Steamboat Springs — Unlike reality dating shows like "Blind Date" and "elimiDATE" - "Not on the First Date" is not scripted.
"This is completely real," producer Kamell Clauson said. "We coach them where to sit, but not what to say. This is very candid and fresh."
Clauson produces the show with her husband Jonathan Black for Channel 14 in Salt Lake City. They consider the show to be unique because of the mild content.
"It's a conservative TV show that promotes values, ethics and teaches the general public about what dating should really be about," Black said. "And it promotes wonderful businesses like this."
The 13th episode of "Not on the First Date" was filmed at the Potter's Wheel on Wednesday for the seasonal finale. The viewers choose their two favorite daters from the previous episodes to go on this super date, which was filmed in Steamboat Springs and Vail.
With Overstock.com Travel sponsoring the super date, they could have filmed it anywhere.
They originally considered going to the Caribbean or Las Vegas, Black said.
"But we wanted to do something people wouldn't think of and let the ski resorts get the attention."
Nicki Farnsworth and Jason Reeder painted pottery in Steamboat on their first date.
"Gail (Holthausen, owner of Potter's Wheel) said this was an intimate thing for couples to do," Clauson said. "Because their personalities come out and it's a hands on, creative thing."
Farnsworth found this date to be a more relaxed experience than her other first date in the ninth episode, where they went to see a Nascar race.
"We rode in a pace car, went around really fast and ran over a raccoon," she said. "This is a much more comfortable setting."
The date seemed to be going well.
"So far we're having a good time," Reeder said with a wink. "I just wanted to do something mystical on our first date and being here is freakin' gorgeous. It contributes to getting to see if there is a connection or friendship."
The producers are hoping this super date helps take their show to the next level.
"It's a syndication marketing tool with the concept of a conservative dating show," Black said. "We are using this episode to go national."