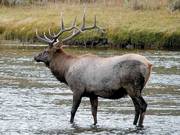 Colorado Hunter
As the region's elk population reaches an optimal size, it could become harder to get an elk-hunting license.
Northwest Colorado has been known to have not only the largest elk herd in the state, but one of the largest in the nation. The state relies on hunters to keep that population at a manageable size.
The Yampa Valley and surrounding areas support three herds of elk. The Green River Herd roams north of U.S. Highway 40 almost to the Utah border and includes as many as 17,000 head. The White Herd roams across a large expanse including the Flat Tops Wilderness Area, Yampa, Toponas, Meeker and Glenwood Springs. There are 41,000 elk in that herd. The Bear's Ears Herd includes 16,000 elk along the Continental Divide north of Craig.
All in all, Northwest Colorado is home to almost a third of the state's 275,000 elk, which run in 10 to 12 herds across Colorado.
Although it's possible to get two elk hunting licenses - but only one bull elk license - that allotment could change.
"That will probably come to an end in the next couple years," said Jeff Yost, terrestrial biologist for the Colorado Division of Wildlife. "The deer are going to be the same. Right now, they're doing really well in the northwest corner of the state. People can have two deer licenses, as well."
Although elk are the major draw for hunters in this region, licenses also are available for a variety of big game, including antelope, bears and mountain lions.
There will still be some deer and elk licenses on sale from what was not purchased at the limited license drawings that took place in April.
"On Aug. 8, those go on sale and can be bought from any licensed agent," Yost said.
For more information about hunting big game in Colorado, visit the Colorado Division of Wildlife Web site at www.wildlife.state.co.us.