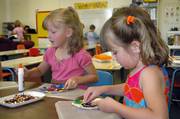 Steamboat Springs — Katelyn Kline, 5, said she was nervous before her first day of kindergarten.
"I was coughing and a little sick," Katelyn said Monday afternoon at Christian Heritage School, scrunching her face at the memory of a not-so-good morning. "But now I feel pretty good."
Kindergarten teacher Linda Calkins said the 13 students in her class responded well to their first day of school Monday.
"I had a bunch of kids last year who were pretty teary-eyed," said Calkins, who had a local mother on-hand in case tears flowed again. "But this year, the kids were troopers. Every year is a little different, and this year went really well."
Along with classmates Amber Townsend, 4, and Abigail Berlet, 5, Katelyn spent part of the afternoon coloring "flowers" made of paper plates, glitter and a lot of glue. Sitting in low chairs at a round table, the three girls quickly became friends as they started their school adventure together.
"I like it! It's fun," Abigail said of her first day, as she glued a ladybug onto her flower.
Lily Fox, 4, said one of her favorite parts of the day was playing "puppies" outside.
"That's when they pretend they're puppies," Calkins said.
Tim Calkins is the principal for primary grades at Christian Heritage School, which has 91 students in kindergarten through 12th grade this year. Last year, 83 students attended the school.
"It has been a good start," Tim Calkins said of Monday's opening. "Enrollment is up a little bit, and we're ready for a good year."
Alan Weisberg is the school's secondary principal, managing students in grades 7 through 12 while Tim Calkins works with the younger students.
Linda Calkins said she asks her kindergartners to bring a picture of themselves to the first day of school. When kids arrive, she said, one of the first things they do is share the pictures with the rest of the class.
"That's a really good way for the kids to get to know each other," she said.
Students across Routt County will be getting to know each other soon. Wednesday is the first day of school at the Lowell Whiteman Primary School. Thursday is the first day in South Routt, and Monday is the first day in Steamboat Springs. The Lowell Whiteman School starts Sept. 4. Hayden schools start Sept. 5.