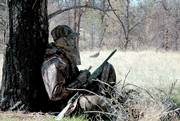 Colorado Hunter
Successful hunters say the secret to their success is how well they're disguised in the habitat.
Scott Moore, of Craig, has been hunting with his bow for 15 years and is no stranger to camouflage gear. He said the important thing is to know what your surroundings look like in the area where you will be hunting.
"My big thing is an open pattern in camouflage," Moore said. "I use light colors, with a dark over the top, not real detailed."
He has many patterns of camouflage, from lightweight T-shirts, to heavily insulated, flannel-lined camouflage.
In sagebrush, Moore likes grays and yellows in his camouflage. In the aspens, it's whites and greens, blended with some yellow.
In archery, where a long shot is about 40 yards, Moore said it's important to cover any skin. He uses a mesh mask over his face, instead of makeup, partially because of the heat encountered during archery season.
He also wears gloves to hide his hands from the game.
His bow is camouflaged. His arrows are a flat, non-reflective color.
Moore owns camouflage that ranges from $5 a set to $400 for his scent-lock, leafy wear outfit.
An important aspect of hiding from the wildlife is camouflaging your scent. Commercial products offer dozens of scents, from a cow elk in heat to a skunk-scented fragrance.
There are cedar- and pine-scented products to cover your smell and doe urine to disguise the human scent.
When hunting whitetail deer, Moore uses rubber boots to hide his scent. He said whitetails have been hunted harder and that they pay attention more than deer in the West.
Jim Simos, owner of Cashway Distributors in Craig, said archery hunters need camouflage much more than rifle hunters do.
"You've got to have camouflage when you're a bow hunter," Simos said. "It makes a difference in archery hunting because you have to get so close."
Today's camouflage is several generations removed from the army issue greens of the past. The modern hunter can choose from mossy oak and real tree patterns, and from sage to white snow outfits.
Northwest Colorado is very diverse in terrain and in foliage, and most sporting good stores carry camouflage appropriate for the area.