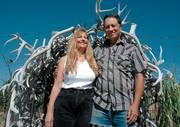 Colorado Hunter
Glenn and Audrey Pritchard said they can see forever from the top of the hill on their 40-acre spread just outside of Craig.
They also said they can find an abundance of "native parts" for the hobby they share a passion for - making crafts and furniture.
The Pritchards, who've lived in their energy-efficient home for the past 12 years, have spent a decade making high-quality crafts from native stones, wood and animal remains, most notably antlers.
"One advantage of living in Craig is the area around Craig," Glenn said. "We're just having a ball with it. We love working with native stuff."
"We're working at it all the time," Audrey said. "We're not getting rich off it, but it's really something we enjoy doing."
Glenn specializes in making furniture - tables, lamps and other household wares - while Audrey's talents are more catered toward jewelry and decorations. The couple travels around the country selling their moderately priced goods at craft shows; they also set up a booth each year near City Market in Craig during hunting season.
Glenn said his tables made of antlers and wood tops with marble inlays cost about $750 to $900.
Audrey's blend of necklaces, rings and chimes - made from antlers, bear claws and native rocks - cost from $35 to $140.
"We make all of our own stuff," Glenn explained, "and we don't charge an arm and a leg for it."
The Pritchards are perhaps their own best customers. Their ranch-style home is decorated in numerous tables, lamps, cabinets, chimes and cushions made by Glenn or Audrey.
They are avid collectors of antlers and stones, which make up the foundation for many of their products.