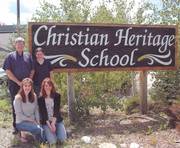 Steamboat Springs — Alan and Sherry Weisberg thought they were empty-nesters.
But there's been a change in plans for the couple.
Alan Weisberg and his wife moved to Steamboat Springs in 2005 when Weisberg accepted the secondary principal position at Christian Heritage School.
They left behind their four adult daughters, all of whom are involved in education.
On Friday, three of Weisberg's daughters joined him in the Christian Heritage School office, smiling and excited for the first day of school.
Michelle, Melissa and Lesley Weisberg have joined the staff at Christian Heritage, rejoining their father, who was their principal at a Christian school in Hopewall, Va.
Alan Weisberg was not on the committee that selected his daughters.
"I was the first (to accept a position)," said Michelle Weisberg, who will teach English and the Bible. "He had an opening, and I needed a job. It was time to move."
All three daughters said it was time to leave Virginia, and the timing to move to Colorado worked out perfectly.
One daughter remains in Virginia. She is a preschool teacher.
Melissa Weisberg will teach government. Lesley Weisberg will teach math part-time. Melissa and Lesley are twins.
"It worked out extremely well," Alan Weisberg said of working with his daughters. "The biggest problem was some of the parents couldn't tell the twins apart."
The three Weisberg women aren't the only new additions to Christian Heritage this year. John Brothers has been hired full-time to teach junior high and high school science, high school math and the Bible.
Brothers moved to Steamboat in 2002 to be involved in ministry and starting teaching in April when Brian Houston was killed in a motorcycle accident.
"They had a need for me," Brothers said.
Sharol Lanning has joined the staff as the elementary physical education teacher.