Yampa River series
Part One:
Part Two:
Part Three:
Part Four:
Part Five:
Part Six:
Just as development and the real estate market in Routt County are booming, St. George, Utah, and Washington County are adapting to the onrush of retiring baby boomers transforming their community.
The push to deliver more water to St. George and the rising cost of housing are taking place with the backdrop of a controversial piece of federal legislation. The bill, proposed by Utah Sen. Bob Bennett and Rep. Jim Matheson, calls for selling public lands in the county to make room for new subdivisions.
Bennett and Matheson contend the public lands in question, about 25,000 acres, are not environmentally sensitive. They also propose to offset the sale by creating additional wilderness and protecting more acreage in an area of critical environmental concern in the southwest corner of the county.
Environmental groups like the Sierra Club counter that there is no compelling need to sell the public lands.
It isn't difficult to make a connection between the Lake Powell Pipeline Act and the Bennett/Matheson bill.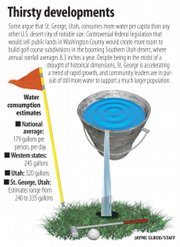 If both efforts succeed, retirement homebuyers will pay a price to tap into costly water in those newly created subdivisions.
Brenda Jones, a Realtor with the listing on new homes in the Twin Creeks subdivision in St. George, said the fees collected to hook new homes to city water increased dramatically this year.
"Impact fees for water doubled this year to $4,300," Jones said.
However, Ron Thompson, manager of the Washington County Water Conservancy District, said water is still a bargain in St. George.
"The demand for (domestic) water - it's inelastic," Thompson said. "You pay whatever you have to pay to get it. Whatever impact fees are, it's cheap."
Homes at Twin Creeks are handsome structures covered in stucco in desert grays and browns. The exteriors are set off by cultured stone trim and red-orange, terra cotta-style tiles. Three-car garages are the norm. Lots begin at $154,900.
Five miles away, at The Terraces at Seven Hills subdivision, Realtor Matt Monson is showing a 2,100-square-foot home with 9-foot ceilings, three bedrooms and baths, and a three-car garage priced at $489,000. All of the homes in the subdivision are built by the developer and come fully landscaped, typically with a mix of luxurious sod and hardy desert plants.
Monson, a native of the area, says he has noticed a change in his clientele.
"Six, eight, 10 years ago, all we got were people from the north - Salt Lake City, Idaho and some from Wyoming," Monson said. Now, that trend has reversed, and everyone is coming from California.
Not far from Twin Creeks, at Sunbrook, construction workers toiled through an extreme heat wave that persisted more than a week. They are building new golf course homes and condominiums in clustered neighborhoods with names like Bella Terrazza, Dolce Vista and Tuscany Ridge.
The golf course is heavily irrigated and features large water hazards. The subdivisions are decorated with water fountains.
Some workers pick up their tools and leave the job site at 3 p.m., when the afternoon heat builds to 107 degrees. At 7 p.m., others are still scrambling over rooftops, nail guns hammering out a staccato rhythm in the growing twilight.
St. George was still a small Western town of 13,300 in 1980. The population had grown to 28,500 by 1990, and in 2006, with the population at 70,000, locals say it's getting harder and harder for police officers, firefighters and teachers to find homes they can afford to buy.
Water is more plentiful in the Yampa Valley than it is in the Virgin River Valley, but that isn't slowing growth in this booming desert community.