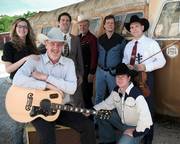 Past Event
Sunday, August 20, 2006, 7 p.m.
Strings Music Festival, 900 Strings Road, (Corner of Mt. Werner Rd & Pine Grove Rd), Steamboat Springs
All ages
Ray Benson, big boss of Asleep at the Wheel, is 6-foot-7 and wears size 16 boots. But he doesn't stress out about what he wears to the Grammy Awards.
"I wear a cowboy hat every time," he said. "Grammy Award shows are, you know, whatever. It's a great honor to win - don't get me wrong - I'm very happy to have won all those Grammies because they are peer awards. There's nothing better, that's what it's about."
Asleep at the Wheel has won nine Grammy Awards for its Western swing music, but it is the recognition from other artists that Benson appreciates the most.
"The applause of the fans is what we play for, but when someone like Willie (Nelson) or Bob (Dylan) says something nice and contributes to a record, that's really, really cool," Benson said.
He has been friends with Nelson for 35 years.
"I can't count the number of records we've done together," Benson said. "And I feel very comfortable with Dylan, which is incredible because he's not someone I talk to on a weekly basis."
Asleep at the Wheel has traveled more than 3 million miles with five different buses and 80 revolving band members.
"Give or take 10," Benson said. "It's been 36 years, you know. People have died and people have gone on to other things. That's the reality. Even the Rolling Stones have only three original members."
Benson is the only band member who has been around since the Wheel's inception in 1970.
"And I'll keep going as long as people show up and I am physically able," he said.
The show Sunday is intended to be a foot-stomping good time. Strings in the Mountains will be pushing back its chairs and rolling out the dance floor for the last concert of the summer.
Benson has some dance advice for concertgoers.
"Wear shoes with leather souls but nothing with rubber because they're not good for dancing," Benson said. "All you need to know is the two-step, jitterbug, waltz and fox trot. They all work. That's the deal."
Benson said people are out of luck if they don't know any of those moves.
"Tell them to practice with their partner beforehand," he said. "And good luck."