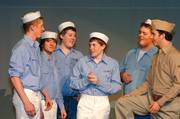 Steamboat Springs — A nonprofit organization wants to operate Steamboat Springs High School's drama program.
Stuart Handloff, the former high school drama teacher who resigned at the end of the 2004-05 school year, now operates The Great American Laughing Stock Company. At a board meeting Monday night, Handloff suggested the district contract with the company to run the drama program.
Handloff has been critical of the high school's current program, which is led by a teacher who splits duties between drama and art. He said Monday that he doesn't believe the existing program meets the needs of students.
"There are some really neat values that theater arts give to kids," Handloff said. "I think you need to provide this service to these kids. It's about an environment of excellence that should be at every level at that school.
"I wanted to offer our company to work on a contract basis and take over the program."
Current drama teacher Chula Walker-Griffith was hired before the 2005-06 school year, after what Superintendent Donna Howell called an extensive search to find a teacher interested in splitting teaching duties between art and drama.
The district conducted a nation-wide search and a committee of parents and students read through applications to identify a candidate last year, selecting Walker-Griffith.
Efforts to contact Walker-Griffith were unsuccessful.
Steamboat Springs School Board President Tom Miller-Freutel - who is resigning from the board - said the drama program at the high school is of interest to him.
"With no direct criticism to individuals related to the program, at a very soon date, I'm hoping we will discuss the direction of the performing arts program," Miller-Freutel said.
Interested community members also were in attendance to voice their support for Handloff and his partners, Rusty DeLucia and Christel Houston.
Handloff assured the board he was not at Monday's meeting to promote his business. Instead, he and his partners want the drama program to excel, he said.
John Harris said his daughter Marilyn Harris has enjoyed being involved in the arts community since she was an extra in The Music Man as a kindergartner at Strawberry Park Elementary. Now, Marilyn Harris is a freshman and wants to stay involved in drama.
"Ever since we've lived here, I think the drama program has been a huge asset," John Harris said. "I think it's tremendously important."
- To reach Melinda Mawdsley, call 871-4208 or e-mail mmawdsley@steamboatpilot.com