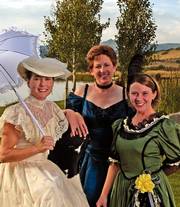 Past Event
Saturday, August 26, 2006, 5:30 p.m.
Storm Mountain Ranch, Steamboat Springs
All ages / $65 - $75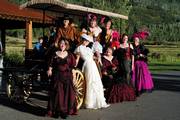 Salon girls, madams and fancy Victorian ladies with high collars will roam Storm Mountain Ranch on Aug. 26.
"We encourage everyone to interpret the theme however they wish," Candice Lombardo, executive director of the Tread of Pioneers Museum, said about this year's Levi's and Lace Western Gala. "There will be guys in denim with Stetson hats, lots of Levi's, lace, cowboy hats and boots."
Lombardo said Levi's and Lace is not a typical fundraiser because people don't just come for a four-course dinner and auction.
"We are honoring a very important family in celebration of our Western heritage with a Western gala," she said.
This year, the museum is honoring Jim Temple, who will be inducted into the Colorado Ski Hall of Fame in October for his role in the founding of the Steamboat Ski Area.
Temple spent seven winters as a ski patroller and avalanche forecaster in Sun Valley, Idaho, where he learned the tools needed to enact his vision of building a ski area in Routt County, where he was born.
"Seven winters in Sun Valley gave Temple a skis-on knowledge of Alpine geography, slope dynamics, avalanche control and other key aspects of ski area planning management," local writer Jean Wren said. "He started his feasibility study of Storm Mountain in 1955, which included taking Jeep rides and riding horseback with the Forest Service supervisor to the top."
Temple began purchasing land at the base of the ski area in 1957, broke ground in 1958 and opened Storm Mountain Ski Area in 1960.
"There will be a small display where people can learn about him and his family's ranching ties, which brought him here," Lombardo said. "His grandfather started a ranch on the Snake River, and he has long ties to Routt County."
The Levi's and Lace fundraiser will not only honor a part of county history, it also will raise money to further the vision of the museum.
"Through collecting, preserving, interpreting and displaying memorabilia from our past, we try to educate and increase public awareness of our historical and cultural heritage through the event," Lombardo said. "Contributing through the fundraiser goes a long way."
The fundraiser will offer carriage rides with Blast From the Past, assorted beer and wine from The Bottleneck, and panoramic views from Storm Mountain Ranch.
"It's unique to be able to host the event with some of the most breathtaking views in town," Lombardo said. "We always have nice weather and can look at the mountain and the sunset. A lot of the event takes place on the back porch."