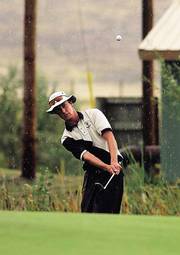 Steamboat Springs — Tuesday's golf tournament at Tiara Rado in Grand Junction symbolized everything that is right about the Steamboat Springs High School golf team.
Not only did the team win by shooting a combined score of 224, one stroke better than Fruita Monument, Paul Berry also displayed the true spirit of high school sports.
Berry's 72 tied him with Jim Knous from Basalt and Chase Nathe from Fuita for the best round of the day. After the first playoff hole eliminated Knous, Berry and Nathe parred the second playoff hole. Nathe then had to leave to attend the funeral of his best friend. Instead of taking the win, Berry conceded the match to Nathe.
"What can I say? That's Paul," coach Steve Berry said. "I've seen him do things like that before. That's the sportsmanship he embodies, and it represents the program we have, as well. That makes me more proud than watching him win."
Tucker Campbell's career-best round of 73, and Jake Dombrowski's career-best round of 79 rounded out the team scores. Michael Weston shot 80 and Billy Taylor shot 85.
Coach Berry said that at one point Campbell was 3 under par, but struggled a little bit down the stretch.
"He had a little trouble finishing," Berry said, "But I am very proud of him."
After Monday's round at Bookcliff Country Club in Grand Junction, Berry said he worked with the team all afternoon on chipping and putting.
"I think their intensity level was better, and their confidence was better," Berry said. "It might have saved a stroke here and there, but that's all it took. We won by one stroke."
The tournament at Tiara Rado solidified that Steam-boat, Fruita Monument and Basalt will be the teams to beat on the Western Slope. Basalt won the two previous tournaments, and Fruita has finished in the top three at all the tournaments.
Still, Berry said Steamboat golfers will be tough this year if they continue to duplicate Tuesday's performance.
"They all stood up and played well," he said. "It's probably our best effort in a long time."
- To reach Luke Graham, call 871-4229
or e-mail graham@steamboatpilot.com