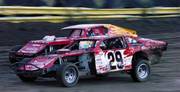 Cars racing at speeds near 100 mph will be making 12-second laps around the quarter-mile Hayden Speedway on Friday night.
It will be the first time full-sized winged sprint cars with a 350-cubic-inch engine size limit will race at the Hayden Speedway, promoter Phil Goodwin said.
"They are really, really fast," Goodwin said. "It's a lot bigger version of the mini-sprints from (earlier) this year."
The Modifieds, Street Stocks and Super Streets cars will race in addition to the ASCS Sprint Cars at this weekend's events.
Racing events this summer at the Hayden Speedway have been run by the Western Colorado Racing Association. Goodwin is the president of the association and said promoter Jim Starr is sponsoring Friday's Rocky Mountain Invitation. ASCS cars and drivers compete nationally, but most of the drivers at Friday's race will be from this region.
It is an expensive race to put on, and Goodwin said Starr is counting on a good turnout to keep from losing money on the race.
"He's taking the chance this year to come and run this thing," Goodwin said. "Hopefully we can get 800 or 900 people."
That many people in attendance would make this the largest race of the summer.
"Anytime we can get something new out there, there is usually a large crowd," Goodwin said.
The ASCS Sprint Cars should perform well and reach high speeds by biting into the Speedway's clay track. At high speeds, the cars bounce along the track, and the skill of the drivers is tested.
"They're good racers," Goodwin said. "I think there will be some good racing."
Admission to the race is $12 for adults and $8 for children 14 and younger. Goodwin expects races will start at 7:30 p.m.
The last night of racing will be the Harvest Cup on Sept. 2, which is sponsored by the town of Hayden. The larger payout structure at that race typically attracts a lot of drivers, Goodwin said.
Admission to the Harvest Cup is $7 for adults, $3 for children 14 and younger. Kids 6 and younger get in free. Races should start at 7 p.m., Goodwin said.
- To reach Matt Stensland, call 871-4210
or e-mail mstensland@steamboatpilot.com