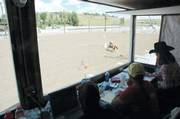 Hayden — A broken foot was not enough to keep 12-year-old Teah Montieth from getting back on a horse Sunday at the Routt County Fair.
Her 4-year-old horse Dollar bucked Teah off during the Western Pleasure morning competition and stepped on her foot.
Teah went to get an X-ray and made it back for the afternoon events at the Open Horse Show competition.
"I want to finish," said Teah, who lives in Hayden and has been riding horses almost all her life
"She's fine," her dad Pat said. "She's hoping to win this."
She finished second in barrel racing and got first in the flag race.
Her mother said watching her daughter get bucked was a scary moment, but Teah was smiling the entire time.
"I don't know what his deal was," Karen said, referring to Dollar's behavior. "I would never put my daughter on a bad horse."
The horses share the same emotions that the riders feel during a fast-paced event such as barrel racing.
"Just like racing horses, they get pretty excited," said Yampa resident Alicia Samuelson, who is the Open Horse Show superintendent along with Missy Wilhelm of Steamboat Springs.
There was another scary moment mid-afternoon outside the arena when a Steamboat Springs woman fell off a horse. The woman was taken to the hospital.
There were over 130 entries in this year's Open Horse Show, which started Friday and wrapped up Sunday with an all-age bareback riding competition.
The open competition allowed many of the participants to practice for the 4-H Routt County Fair competitions this week.
There were 18 kids 10 years old and under participating in the numerous events.