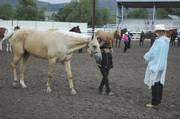 Hayden — Millie Delaney's quarter horse, Dusty Downs, is about 10 times her size. The top of her head barely reaches Dusty's snout, and she can't touch his back without someone's assistance.
Despite the size difference, 9-year-old Delaney easily marched Dusty into the Routt County Fairgrounds arena Saturday morning to compete in the 10-and-under open horse show showmanship competition.
Delaney's brother, 10-year-old Liam Delaney, also showed his horse, a registered Paint named Max's First Frost.
Liam Delaney took second place in the competition.
"I guess it went pretty good," he said after he led Max away from the arena.
Sheryl McConnell, a judge from Berthoud who judged the 14 horses that were entered in the competition, said she was impressed with how many children were entered and how well they performed.
"They were awesome," she said. "It was great to see that many 10 and unders."
After each participant completed his or her patterns, McConnell made sure to take notes and then address each participant individually with advice.
Millie and Liam Delaney's mother, Tammie Delaney, appreciated McConnell's approach.
"I just want to go up and hug her because doing what she's doing makes her a real person for the kids," Tammie Delaney said. "She's not just some scary judge who doesn't make it fun for them."
Liam Delaney said McConnell gave him some helpful tips for the future.
"She told me I have to be quicker on my square-up and also to watch my lines so that I am not standing in front of my horse," he said.
Millie Delaney said McConnell's advice was to get Dusty to trot, which he refused to do during her pattern.
"She told me that I need to work on his trot because he is slow and lazy," she said.
The Delaneys have been participating in the Routt County Fair practically since birth, Tammie Delaney said. They still have a few more days of horse shows to compete in before they switch gears and show their pigs and lambs.
"Our family loves the fair," Tammie Delaney said. "We work with our animals and each other all year in preparation for this."
Living in Hayden also makes coming to the fair early every day easier.
"For us it's a gift because we ride here every day for practically nothing," she said.
Today's open horse show is at 8 a.m. at the fairgrounds.
- To reach Alexis DeLaCruz, call 871-4234
or e-mail adelacruz@steamboatpilot.com