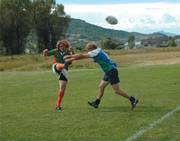 Steamboat Springs — It was dejà vu for the Steamboat Springs Rugby Football Club Saturday.
Steamboat's 28-25 loss against the Vail Rugby Football Club was almost an exact mirror of its previous two meetings.
Steamboat lost by two points the first time the two teams met earlier in the season and by three points in the semifinal match-up in the 12-team Ski Town rugby tournament in Breckenridge.
Both games ended with Vail scoring in the final minutes of the match. Saturday, Steamboat held a 25-23 lead with two minutes to go. After some sloppy play by Steamboat, Vail capitalized with a go-ahead try. Steamboat had an opportunity to tie the score with a penalty kick, but the try fell short.
"I guess we're making a habit of snatching the win from the jaws of defeat," Vail coach Steve MacKinnon said."
Still, Saturday it seemed Steamboat would break out of its funk against Vail.
Steamboat took advantage of two Chris Bowman tries to jump out to a 14-7 lead. Tom Valentine scored for Vail late in the first half to knot the teams up at 14-14 heading into halftime.
Coming out of halftime, it looked like Steamboat might run away with the game. They scored twice to go up, 25-17. Then, Steamboat received a red card and had to play a man down for the last 10 minutes of the game. Playing shorthanded, coupled with inexperience, left Steamboat reeling.
"Every time we've thrown the game away in the end," Steamboat captain Michael Hurley said. "It's such a close rivalry with these boys, we just can't put the game away."
The win puts Vail in a prime position to wrap up the Rocky Mountain Rugby League title. League foe Aspen is ineligible for title contention since they didn't play a complete schedule.
"It's just a lucky game," Vail captain Brandon McDonald said. "That was one of the most competitive games we've played in all season."
Even with the loss, Hurley deemed the season a success so far. After years of complacency, Steamboat Rugby has worked itself back into respectability.