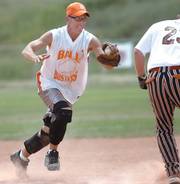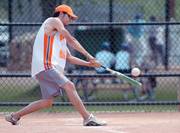 Steamboat Springs — Triple Crown Sports' presence at baseball fields across Routt and Moffat counties will have a different look this weekend. Steamboat's final championship tournament of the summer, the Adult Slow Pitch Softball Summer Nationals, will be a much shorter and smaller affair compared with the previous three weekends of youth baseball World Series tournaments.
The Softball Nationals also feature 75 teams compared with the 350 baseball teams playing during the weekend of July 22.
"There's much more local participation in this tournament," said Patty Harsch, tournament director and Triple Crown Sports national softball director. She said this weekend's tournament is open qualification, allowing local teams to participate without having to qualify at regional Triple Crown tournaments. "There's a great mix of out-of-state teams that give the local teams a chance to play some great teams in their own backyard."
Five Steamboat teams are spread across the seven divisions of the three-game pool play tournament.
The Ball Busters, a team of local players drawn from teams in Steamboat's men's A and B summer softball leagues, started pool play at Howelsen Hill on Friday morning in the tournament's men's B/C division.
Busters shortstop Mike Tilton said the team has traveled to play in various fast-pitch softball and baseball tournaments and that members were pleased to stay home and have the teams come to them.
The Busters had a rough 20-1 loss Friday against an all-star team from Fort Myers, Fla., the winners of last year's Triple Crown Fall National Finals.
"Those guys were picking us apart, finding all the little holes," Tilton said.
Guaranteed four games, the Busters' hopes are still alive. With three men's divisions, two women's and two co-ed divisions, and after three pool-play games Friday and this morning, the top two teams in each division's four-team pools will move into a double-elimination championship bracket. There, the bottom two teams will still be in contention but will play single elimination, state softball director Kasey King said.
Today's games finish with a race for a pair of $100 bills atop Howelsen Hill, followed by the summer nationals party and charity auction at 10 p.m. at The Tugboat Grill & Pub.
The tournament ends with championship games Sunday at Howelsen Hill's Adams Field, where the field will be decorated and announcers will provide play-by-play coverage with music between innings as the players walk up to bat.