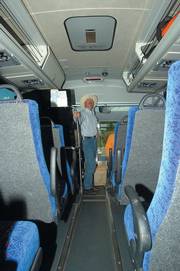 Steamboat Springs — U.S. Rep. John Salazar, a farmer from the San Luis Valley, used agriculture to describe his Friday visit to Steamboat Springs.
"It's good to see the fruits of your labor," Salazar, a Democrat from Manassa, said after touring the city's Transit Operations Center on 13th Street. The Congressman recently secured more than $625,000 for transportation needs in Steamboat. More than $175,000 of that funding already has been spent to replace vehicle hoists at the center, allowing for safer and more effective maintenance of city vehicles, including buses, Steamboat Springs Transportation Director George Krawzoff said.
Nearing the end of his first term in Washington, D.C., Salazar said he is proud to have secured "a record amount" of federal transportation dollars for the Western Slope, including $1.5 million for Garfield County Regional Airport in Rifle. He also cited his work in expanding services for military veterans across Colorado's 3rd Congressional District and said he hopes to continue that work in a second term in Congress.
Republican Scott Tipton, a Cortez businessman, is a political newcomer hoping to take Salazar's seat. Tipton trails Salazar in polls and total fundraising but filed more campaign contributions in the second quarter of 2006 than the Salazar campaign.
On Friday afternoon at the Steamboat Pilot & Today, Salazar cited a July survey of 575 district voters - 39 percent Democrat, 40 percent Republican and 21 percent unaffiliated - that said he has a 68 percent approval rating among his constituents. Salazar said Tipton lacks that kind of bipartisan support.
"You don't see (Tipton) in places where there are high numbers of Democrats," Salazar said. "You don't see him in Durango, or Pueblo or the San Luis Valley."
The Congressman, whose brother Ken Salazar is a U.S. senator, also talked about oil shale development on the Western Slope, and how an energy bill that he voted against could spread that development.
House Resolution 4761 would provide economic incentives for oil shale and natural gas developers in the Western U.S. Salazar said he voted against the resolution, which is awaiting action in the Senate, because it provides economic incentives for oil and natural gas exploration that could severely damage the natural landscape.
"I sure as hell would rather drill out in the ocean than destroy these beautiful mountains," Salazar said, referring to oil exploration off coastlines in areas such as California, Alaska and the Gulf of Mexico. "This is much prettier scenery."
U.S. Rep. Bob Beauprez, an Arvada Republican running for governor, voted for the resolution. In Steamboat on Aug. 3, Beauprez said he supports HR 4761 because it "moves us in the direction" of reducing dependence on foreign energy sources.
Salazar said that although such a reduction is necessary, the environmental cost associated with the resolution is too high.
"We can't destroy western Colorado while we do it," Salazar said.