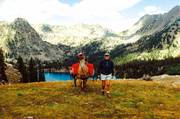 Recurring event
Off the Beaten Path, 68 Ninth St. , Steamboat Springs
All ages / Free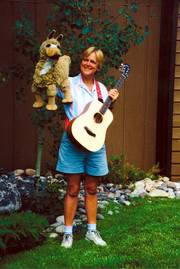 Diane White-Crane could not have written "Hiking the 'Boat II" without her llamas.
"They were my partners and my buddies," White-Crane said. "The llamas were carrying everything so I could still hike and not carry 50 pounds on my back. And the llamas bring a lot of fun."
In her guidebook, White-Crane updates the 30 hikes from her first book and adds 78 other area hikes. The book details 108 hikes in the Mount Zirkel Wilderness, Routt National Forest, the Flat Tops and the Service Creek Wilderness.
The book was designed as a comprehensive reference to make hiking fun and easy for people. It takes the guesswork out of hiking and provides recommendations for children and senior citizens.
"I know this area now like the back of my hand," White-Crane said. "I'm glad I got it down before I became senile. I look at the book now and think, 'How did I do that, and where did I find the energy to do that?'"
White-Crane's llamas were very protective of her when she was in the wildness, she said.
"One llama always faced my tent and the other one faced out," she said. "They are stoic, friendly, protective and just as sweet as can be. They say they could kill you if they wanted to, but if they know you won't mistreat them, they will do almost anything for you."
White-Crane also wrote a children's book titled "Stop Spitting At Your Brother." It is about a Rocky Mountain llama that learns about sibling rivalry, love for and loyalty to his friends and family, and not judging others by the way they look.
Residents and visitors will have the opportunity Saturday to meet the two main characters of the book, Dudley and Sammy, at Off The Beaten Path Bookstore.
White-Crane also will be signing her books, performing llama puppet shows and singing songs from her CD, "Songs For Llama Lovers."
Although White-Crane's "Hiking in the 'Boat II" is Off The Beaten Path's top selling book since its release in 2001, she has experienced some competition.
"Harry Potter may have beat me one year, but if you add up all the years, it's always the top-selling book in Steamboat," she said. "I don't have 15 minutes of fame. I have 15 miles of fame."