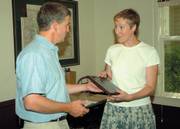 Steamboat Springs — Historic Routt County presented one of its two 2006 Preservation Leadership awards to an assistant professor from the University of Colorado at Denver on Wednesday.
Ekaterini Vlahos was recognized for her work in documenting historical ranches in Routt County with her students at the CU-Denver College of Architecture and Planning. Vlahos, who has taught at CU-Denver for seven years and received tenure last month, said time spent in Colorado and having family members in the ranching business spurred her interest in the project.
"The project allowed my students to see another way of life," said Vlahos, a Moffat County native. "It lets them study how something is built and put together."
Vlahos' work was instrumental in forming the Barns, etc., program committee. The committee's main objective was to preserve the county's historical ranches and cultural landscape. Through the group collaboration, HBC published the Agricultural Context of Routt County. The document identifies the historical agricultural resources and cultural landscapes unique to Routt County.
"So many of these structures are threatened by developers," said Arianthe Stettner, the executive director of HRC. "We are in a race against time to preserve them and their stories. These buildings tell a whole story about the West."
Since 2000, Vlahos would accompany a class and come up to Northwest Colorado and identify historical ranches. Vlahos would take and draw pictures as well as describe the ranches in words to preserve their history.
"We're seeing the loss of our agricultural history," Vlahos said. "The lifestyle is being lost, as well. It's interesting to find out how the people settled and how they built the ranches."
Vlahos said her work generally takes students from suburban and metro areas and shows them a part of architecture they rarely see. Her courses and work hope to incorporate the landscape as well as the culture and traditions of the areas. She said her goal is to make future architects aware of all the intangibles.
"The main thing is what can they learn from these places that can make for a better environment today," she said.