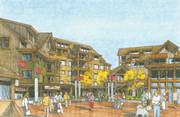 Steamboat Springs — Height and housing density are the two greatest concerns city officials have with a proposed mixed-use development at the base of the Steamboat Ski Area.
At its meeting Tuesday night, the Steamboat Springs City Council heard a presentation about development plans for One Steamboat Place, a resort-style project that would include 80 residential units, five employee housing units, a large public plaza and more than 15,000 square feet of commercial space on an approximately 4-acre site adjacent to the Gondola Building.
Staff from project developer Timbers Company, based in Carbondale, and CCY Architects of Basalt, began the presentation well after 11 p.m., near the end of a packed council agenda.
The council's discussion of One Steamboat Place was brief because of the late hour. The City Council is scheduled to discuss the project again - and likely approve or deny its development plan - at a meeting Aug. 22.
Council members praised project planners for their work and overall design but expressed concerns about the building's height and lack of housing density.
"There's an average of 2,700 square feet in those (residential) units," council President Pro-tem Susan Dellinger said. "I was hoping there would be more density."
Council President Ken Brenner said large residential units often are purchased by wealthy buyers and can sit empty for much of the year. Smaller units have a greater likelihood of high use that would bring "vitality" to the ski base, he added.
"Warm beds are really important," Brenner said about a resort development strategy he has discussed with city planners in Vail and Aspen.
Jim Wells, Timbers Company vice president and project manager for One Steamboat Place, said the fractional ownership allowed for 42 of the residential units could ensure high-use rates - about 80 percent usage year-round - that Timbers Company has experienced at its Snowmass development, The Timbers Club at Snowmass.
"We've found that the fractional units have greater occupancy (rates) than hotel units," Wells said.
Design plans for One Steamboat Place, an M-shaped building with three connected wings, include a maximum height of 104 feet in six stories.
Timbers Company and Robin Schiller of CCY Architects are requesting a variance that will allow the building to reach that height, as opposed to the 67 feet allowed in city zoning codes for the site.
Dellinger said Wednesday that she would like the building to be "at least one story lower." Wells said that kind of change could eliminate as many as 112 beds from One Steamboat Place, because the building's slanted roof that covers all of the sixth floor and part of the fifth. To lower the building without changing the roof design, Wells said, would require removing the third or fourth floor, which contain 14 units with eight beds in each.