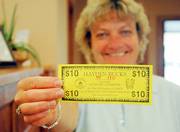 Steamboat Springs — There's a new buck in Hayden.
Hayden Bucks are making their debut at local banks, and Hayden officials hope they soon will find their way into the cash registers of local businesses.
The town of Hayden's Econ-omic Development Commission developed the Hayden Bucks program with the goal of increasing spending at Hayden businesses, HEDC chairman Jack Giessinger said. South Routt County has a similar program called South Routt Bucks.
Hayden bucks are available at First National Bank of the Rockies and Mountain Valley Bank in denominations of $1, $5 and $10. Residents can get their cash at the bank in Hayden bucks, which can then be spent at any Hayden business.
When people spend the bucks at town businesses, change also will be given in Hayden bucks. Coin change, however, will be given in standard U.S. currency. Businesses will take the bucks to the bank to be deposited, and the bucks will be treated like cash.
Town officials are counting on a few things to make the Hayden Bucks program successful and increase spending at local businesses.
The town has budgeted about $1,500 to provide a cash incentive. Until that money runs out, people will receive an additional 10 percent in Hayden bucks when they purchase Hayden bucks. For example, a person who gives $100 for Hayden bucks will receive $110 in Hayden bucks.
The town is offering a 10 percent incentive using taxpayer money, but 4 percent of Hayden bucks sales will come back to the town in the form of sales tax.
Town officials also hope Hayden businesses will offer their own incentives, such as discounts, to people who make their purchases with Hayden bucks.
"It only works if people participate and businesses offer their own incentives," Hayden Town Manager Russ Martin said.