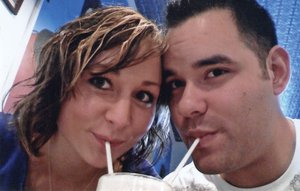 Gilbert and Villarreal
Garold and Barbara Gilbert, of Hayden, announce the engagement of their daughter Jacci Gilbert to Rudy Villarreal, son of Gorgonio and Michelle Villarreal, of Lindsay, Calif. The couple resides in Colorado Springs and will wed Aug. 28 in Steamboat Springs.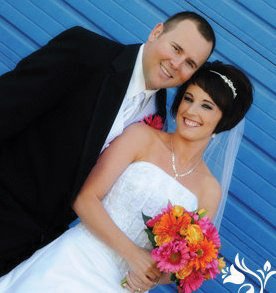 Grinolds and Voyek
Kayloni Grinolds, of Craig, and Tyson Voyek, of Steamboat Springs, were married June 19, 2010, in Mesquite Nev. Kayloni is the daughter of Kelly and Regina Grinolds and Cindy Biskup, and Tyson is the son of Jeff Voyek and Kim Johnson. Bridesmaids were Mandy Hanel, Adriane Zachary and Natalie Biasi. Groomsmen were Corey Voyek, Adam Grimes and Ryan Dingle. The couple resides in Mesquite.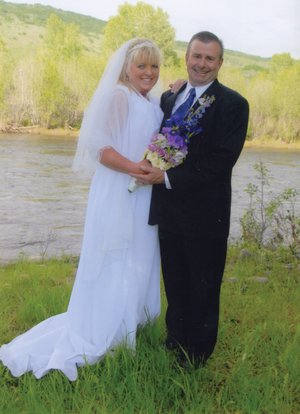 Smalley and Voyek
Jeffrey Voyek and Diana Smalley were married June 26, 2010, on a beautiful summer afternoon in the lower Elk River Valley of Steamboat Springs. Jeff is the son of Donna Voyek and the late Bill Voyek, of Ord, Neb. Diana is the daughter of Merrill Smalley, and the late Florine Smalley, of Coralville, Iowa. The ceremony and reception were held outdoors at the Dorr family's Tree Pasture along the lower Elk River. Officiating the ceremony was Larry McCoy, of North Routt County. Groomsmen were friends of the bride and groom, Alex Rogger, of Steamboat, and Mark Gehrman, of Lake Havasu, Ariz. Bridesmaids were childhood friends of the bride, Vicki Berens, of Marietta, Ga., and Pam Wilson, of Cedar Rapids, Iowa. Bridal attendant was friend of the bride Sharon McFall, of Fort Collins. Flower girl was Kayden Grinolds, daughter of Regina and Kelly Grinolds, of Craig. All the beautiful flowers were created by Paige Roberts, friend of the bride. Jeff and Diana were blessed with many loving friends and family members attending the joyous event. The couple will continue to live in Steamboat. A honeymoon is planned for summer 2011 to Europe or Alaska.
Klapperich and Blossom
Chris Klapperich and Dave Blossom, of Clark, were married Aug. 8, 2010, at the Elk River Guest Ranch. Cathy Shryock was the maid of honor, and Bob Marko was the best man. Chris is the daughter of Dwain and Diana Thomas. Dave is the son of Pauline Blossom. The couple will honeymoon in Estes Park and would like to thank everyone who made their day so special.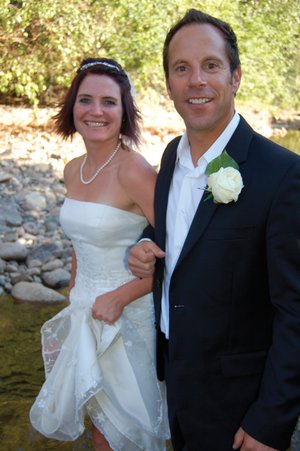 Maniaci and Aldighieri
Jessica Maniaci and Robert Aldighieri, of Steamboat Springs, were married Aug. 14, 2010, in Old Town Steamboat. Jessica is the daughter of Gary and Nancy Gray, and Robert is the son of Joseph and Patricia Aldighieri. Bridesmaids were Becca, Emmy, Tamara, Brook, Katy and Megan. Groomsmen were Paul, Bruce, Chuck and Barkley. Andrew Illowiz, a long time friend of Bobby's, was the officiant. The reception was held at the Alpine Club at Wildhorse Meadows. The couple thanks family and friends for coming to partake in the ceremony and enjoy Steamboat. The couple will honeymoon in Italy.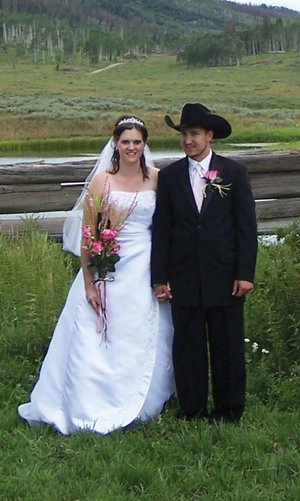 Koler and Manzanares
Leslie Koler, of Phippsburg, and Tyler Manzanares, of Hayden, were married Aug. 7, 2010, at Flying Horse Ranch. Leslie is the daughter of William and Debbie Koler and is an equine massage therapist and vet assistant. Tyler is the son of Ray and Barbara Manzanares and is employed with the Routt County Road and Bridge Department. Bridesmaids were Ashley Caster, Courtney Long, Nichole Zimmerman and Glenda Luar. Groomsmen were Tucker Overstreet, Tack Louthan and Dylan Richardson. The couple, who resides in Oak Creek, plans to honeymoon in San Antonio, Texas, and would like to thank family and friends who shared the day with them