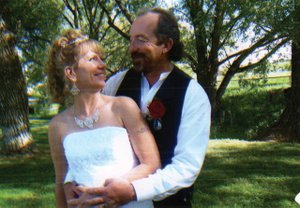 Melson-Castleman and Vallejos
Judy Melson-Castleman and Antonio Vallejos exchanged wedding vows Saturday, June 9, 2007, at the American Legion Hall in Hayden. Bill Soper of Craig, a friend of the groom, officiated the ceremony. Judy is the daughter of Daniel R. "Doc" and Thelma Melson of Hayden. Antonio "Tony" is the son of the late Antonio E. and Eleanora Vallejos of Helper, Utah. The bride's gown was of elegant chantilly lace, adorned with seed pearls and matching jacket. She was escorted down the aisle by her father who was to assist the bride's grandson, Casey Daniel Castleman, who was unable to attend. The bride was attended by her daughter, Sara Williams of Thornton; the groom's daughter, Tanya Vallejos of Craig; and the bride's niece, Amanda Wallace of Brighton. The groom was attended by his sons, Anthony and Jason Vallejos of Craig. They were to be assisted by the bride's son, Jack Castleman, who was unable to attend. The flower girl was Dionna Wallace of Brighton, grand-niece of the bride, who was to assist the bride's granddaughter, Trinity Lee Castleman, who was unable to attend. The ringbearer was Anthony "Little Tony" Vallejos of Craig, grandson of the groom. The couple make their home in Hayden. She is employed by Links Freight Management, and he is employed by Peabody Coal Co.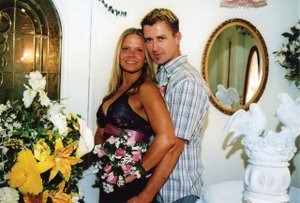 Appel and McCool
Larry and Chris Appel of Steamboat Springs and Clarence and Bobbie McCool of Geronimo, Okla., would like to proudly announce the marriage of their children, Keith Appel and Alane McCool. On June 16, 2007, Keith and Alane exchanged their wedding vows at the Hollywood Chapel in Las Vegas with "Elvis" officiating the ceremony. "Elvis" then serenaded the happy couple with "Love Me Tenders" and "Viva Las Vegas" with Alane's uncle Earl witnessing their life-time commitment to each other. After the ceremony, the newlyweds celebrated their union with dinner at Ruth Chris' Steakhouse and a weekend of fun in the sun. They will reside in Steamboat with Keith's children, Christian, 11, and Madison, 8, where Keith and Alane both are self-employed in the construction business.