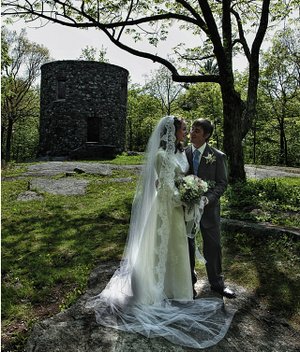 Patrick and McKenzie
Caitlyn Marie Patrick and Thomas Christopher McKenzie were married in Cornwall, Conn., on May 28, 2006. Along a rough path in the woods, a clearing opened to a historical, stone tower in Mohawk State Forest. A delightful group of guests glistened in the sun, tickling their tongues with Pimm's cocktails, as the trumpets sounded the alarm. This was a day to remember! The rain subsided and on the first sunny day in Connecticut in two months, Tom and Caitlyn were married. Attending the couple was Danika Patrick, Elanor Radford, Emilie VanBourgondien, Adam Topping, Will McKenzie and Travis Crooke. Caitlyn is the daughter of Francis and Victoria Patrick of New Hartford, Conn. She graduated from St. Mary's College of Maryland in 2003 with a bachelor's degree in mathematics. Thomas is the son of Jonathon and Sarah McKenzie of Alresford, Hampshire, England. They reside in Steamboat with their dog, Shire Sunbeam McKenzie. Caitlyn works for Thira Architects preserving historical buildings and bookkeeping. Tom installs high-end residential audio visual equipment with Paragon Technologies. You're likely to find them skiing on Rabbit Ears Pass and Buffalo Pass in the winter, and climbing at the Dome, nestled up at Cougar Rock, or playing Ultimate Frisbee in the summer.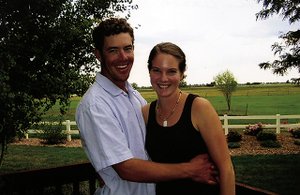 McCawley and Mathey
Elizabeth Sarah McCawley, daughter of William M. McCawley Jr. and Jayne O. McCawley of Steamboat Springs, is engaged to be married to Seth Addam Mathey, son of John W. Mathey Jr. and Luann M. Mathey of Loveland. Elizabeth graduated from the American School in London in 2000 and the College of the Holy Cross in Worchester, Mass., in 2004. She is currently a graduate student of special education at the University of Colorado at Denver. Seth graduated from Thompson Valley High School in 1998 and Colorado State University in 2003. He is the manager of a ski rental delivery business and is a fly fishing guide. The couple will be married on Jan. 12, 2008, at St. Paul's Episcopal Church and officiated by the Rev. David Henderson. Their reception will be held at the top of the gondola in the Champagne Powder room. The bride and groom will reside in Steamboat Springs.