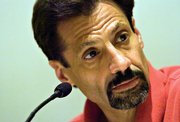 Chat with Loui Antonucci, president of the new Steamboat Springs City Council, Friday at 1:30 p.m.
This chat has already taken place. Read the transcript below.
Moderator
Good afternoon, everyone. Today we are chatting with Loui Antonucci, who on Tuesday became president of the Steamboat Springs City Council. I am city editor Mike Lawrence, and I'll be moderating this chat. Thanks for joining us today, Loui.
November 16, 2007at 1:31 p.m.
Loui Antonucci
Hi Mike,
Thanks for having me.

November 16, 2007at 1:33 p.m.
Moderator
We have several questions from the public for today's chat. The first question is from a user of our Web site named "dimwitiguess."
November 16, 2007at 1:35 p.m.
We hear so much in-fighting wth the council over growth a=or no growth. Which council s ths and how do you and does it plan to make people happier about your very important work?
November 16, 2007at 7:58 a.m.
Loui Antonucci
This is a new council, so it reamains to be seen what their view of growth is. The truth is we are a growing community and the to me personally it is not if we grow but how we grow. We have many important issues comming at us, such as the growth and annexation of West Steamboat, the demolition and rebuild of Ski Time Square, as well as many other developements that are known and some as yet unknown.
November 16, 2007at 1:41 p.m.
will you work to overturn the "linkage" rules, or at least out it on the ballot for a pulic vote?
November 16, 2007at 9:04 a.m.
Loui Antonucci
The new city council has a retreat scheduled for early December. At that time we will discuss the vaious issues and concerns that the council members have and prioritize them. At this time I do not have any idea what the list will look like. The linkage ordinace is so new that we really don't know what effect if any it is having on developement. My personal concern from the begining was that I did not want it to hurt the very people that we were supposedly trying to help.
As far as putting it on a ballot, that is an issue for the entire council to decide.
Sorry to be so vague, but I really don't have a feel for what the council as a whole feels about this issue.
Also we have no thad any public input, one way or another about their feeling on this. As you know I voted against this for many reasons, but was outvoted by the rest of council.
November 16, 2007at 1:55 p.m.
Moderator
This next question is from the newspaper. On Nov. 8, the City Council, acting as the Steamboat Springs Liquor License Authority, revoked the liquor license of Jade Summit and Pirate's Pub owner Kevin Nerney. All five council members present agreed that Nerney violated state liquor codes in a February incident that led to charges of which Nerney was found not guilty in Routt County Court. But not all council members agreed that revocation was the proper punishment.
You were not present Nov. 8. Do you agree that Nerney violated state liquor codes in the February incident? If so, what do you think is the proper punishment?
November 16, 2007at 1:57 p.m.
Loui Antonucci
I was out of town for the second part of the hearing, so I did not hear the defense portion. It therefore would not be proper for me comment on his innocence or guilt. however, I am not willing to open the hearing again or to have a new hearing. I respect the determination of the previous council as to the innocence or guilt.
November 16, 2007at 2:04 p.m.
Loui Antonucci
MIke,
A couple of other thoughts on this. First, and I said this the other night, we are not going to re-hear this case to determine innocence or guilt..that has already taken place. We were asked to review the severity of the penelty..is the penelty commensurate with the crime. I voted to allow the defense to come before the Liquor Lic. Authority to ask that question. This past Tuesday we were seated as the City Council and not the Liquor Lic. Authority. Because the LLA does not have regularly scheduled meeting it would have been impossible for Nerneys Lawer to approach that body and ask that question. That is why I voted to allow them to come before us and pose that question.
We also needed to have some time for our attorneys to advise the Liquor License Authority on this matter.
November 16, 2007at 2:17 p.m.
Moderator
That next Liquor License Authority meeting is scheduled for Dec. 5. We have time for one more response today. Loui, you are suddenly in the driver's seat for a new City Council. Did you have any hesitations about accepting the nomination for City Council president? What do you hope to change with this council, compared to the previous group, and what do you hope stays the same?
November 16, 2007at 2:21 p.m.
Loui Antonucci
Honestly Mike, I never really thought about it or wanted to be president of the council. After the election I was asked by the new council to lead them and decided to accept the position.
One of the first things I hope to accomplish is to get back to only three meetings a month and to have them start and end at reasonable times. It was really hard on staff and council to meet as often as we did.
I think that we all hope that we represent the will of the people and to be responsive to the needs of the community.
The last council had many diverse points of view and that is healthy and will lead to better decision making. I hope we can engage in the same type of dialogue. After the other night I am sure that will happen as no one seemed to be shy about getting involved or voicing their opinion.
Overall, I am really excited about the new council, and look foward to working with them.
November 16, 2007at 2:43 p.m.
Moderator
That's all the time we have today. A partial transcript of this chat will be published in Monday's Steamboat Today, and you can always view the entire version on our Web site. Thank you for joining us, Loui.
November 16, 2007at 2:46 p.m.
Loui Antonucci
Thanks for having me today
November 16, 2007at 2:47 p.m.
Moderator
Also, we had a few questions submitted by the public that we did not get to in today's chat. All questions, including those from "btheball" and "beentheredonethat," will be given directly to Loui so he is aware of the public's interests. I thank all participants for their interest today.

November 16, 2007at 2:54 p.m.