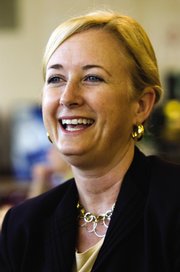 Join Sandra Smyser, interim superintendent of the Steamboat Springs School District, for an on-line chat at 11 a.m. Friday.
This chat has already taken place. Read the transcript below.
Moderator
Hi, everyone. We are chatting this morning with Dr. Sandra Smyser, interim superintendent for the Steamboat Springs School District.
Good morning, Dr. Smyser. Thank you for joining us.

November 2, 2007at 11:02 a.m.
Sandra Smyser
Good morning. Thank you for asking me to participate in your online chat.
November 2, 2007at 11:10 a.m.
Moderator
Dr. Smyser, you began work here in Steamboat on Oct. 1. What are your first impressions of the school district and the community?
November 2, 2007at 11:11 a.m.
Sandra Smyser
I have really enjoyed getting to know everyone in the district and many of the community volunteers who are supporting our schools. It is clear that we have great schools and a very supportive community.
November 2, 2007at 11:16 a.m.
Moderator
The school district had a turbulent spring and summer, including an unsuccessful effort to recall a School Board member and the departure of former superintendent Donna Howell. Did you talk with Howell about the district's climate while you were in the application and hiring process?
November 2, 2007at 11:19 a.m.
Sandra Smyser
I was aware, of course, of the difficulties that the district had at the time I applied. I have been working with the Board and the employees to try to help refocus everyone on the job of the district, which is providing a great education for the students. Everyone has been very receptive to my efforts and very supportive.
November 2, 2007at 11:24 a.m.
Moderator
What are your immediate goals for the school district, and what steps are being taken to implement those goals?
November 2, 2007at 11:26 a.m.
Sandra Smyser
We have several projects that are in process right now.
The Board has expressed a desire to try to implement all day Kindergarten for next school year. We have assembled a committee that is working on that project with a quick timeline so that decisions can be made no later than March.
Of course, everyone is aware that we have an expansion of Strawberry Park Elementary that is in process, and the construction of the new Soda Creek Elementary School. Those projects are both going well and we have the community passage of the bond to thank for them.
We are working on our K-12 curriculum, organizing it and making plans for how to purchase updated instructional materials both in the short term and for the future.
We are in the first year of a two year implementation of a new Citrix system for our computers. This is in place at the elementary schools already, and is greatly improving our student and teacher access to applications and information. The Education Fund Board has funded this project, and it is already having a huge impact.
This year the Board will be going through a process of collecting community input about graduation requirements. This is a legislative mandate, and we are planning how best to go about engaging the community in that discussion. This is something that all school Boards across the state are doing this year.
Those are just some examples of the things we have going on.
November 2, 2007at 11:35 a.m.
Moderator
That's quite a list. With all that is going on, what are your thoughts about the upcoming election, which could result in as many as three new School Board members? Should new members be elected, will there be a learning curve that could delay plans already set in motion? And finally, has the campaigning been a distraction?
November 2, 2007at 11:40 a.m.
Sandra Smyser
There is always a learning curve for anyone who is newly elected to office. We know that we will have at least one new board member. I would not anticipate that this learning curve would delay any of our projects significantly. New elected officials take office with a committment to spend whatever time is necessary to get up to speed quickly, and I'm sure that will be be the case. I'm happy to say that the campaign season has not distracted us at all.
November 2, 2007at 11:45 a.m.
Moderator
That's good to hear. By the way, I apologize for not introducing myself earlier. This is Mike Lawrence, city editor and former education reporter here at the newspaper. Back to the questions, policy governance is a topic that has come up quite a bit in recent months. Can you explain to our readers what policy governance is and how it relates to decision-making in the school district? In your opinion, is policy governance an effective tool?
November 2, 2007at 11:49 a.m.
Sandra Smyser
Policy governance is a method of clarifying the roles of the Board and the Superintendent/Staff. The Board sets the policy, and then the Superintendent with staff go about implementing that policy and deciding how to implement it. The process is designed to keep both groups focused on their part of the organization. So staff members, particularly the Superintendent, are to be careful not to set policy by their decisions. Likewise, Board members are to watch that they not get involved in the day to day management of the district or the administrative decision making. As a district, we are going to be participating in December in the next step of training on policy governance. We will be learning how to develop monitoring reports. These reports are designed to provide the feedback and the accountability that the Board needs in order to be assured that their policies are being implemented in the way that they intended. I think it has great potential for helping to avoid some of the difficulties that Boards and Superintendents/staff have everywhere. I can see that the training we have had so far has been helpful, and we are looking forward to the next step.
November 2, 2007at 11:56 a.m.
Moderator
Thank you, Dr. Smyser. We have time for one more question, and we'll keep this one light. Many people here in Steamboat might not know much about you as a person. What are some of your hobbies and interests? How do you spend your time when you're not at work?
Sandra Smyser
Well, as with so many people, I spend too much time at work! But I love to hike, and am looking forward to cross country skiing. I am looking forward to so many of the activities and events that will be happening this winter. I have been truly welcomed and am enjoying myself here very much.
November 2, 2007at 12:04 p.m.
Moderator
Thanks again for participating this morning, Dr. Smyser. Good luck to you as you continue to settle in here in Steamboat.

November 2, 2007at 12:08 p.m.
Sandra Smyser
Thank you
November 2, 2007at 12:09 p.m.