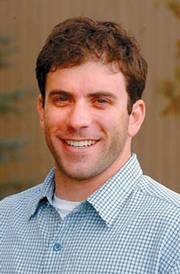 Brent Boyer has been named to replace Scott Stanford as editor of the Steamboat Pilot & Today. Boyer will be available for a chat at 2 p.m. Friday.
This chat has already taken place. Read the transcript below.
Moderator
Good afternoon everyone, thanks for joining us. I'm Steamboat Pilot & Today reporter Mike Lawrence, and I'll be moderating this chat with our new editor, Brent Boyer.
Welcome, Brent. Congratulations on your new position.
August 10, 2007at 2:01 p.m.
Brent Boyer
Thanks, Mike. It's an exciting opportunity for me, and I look forward to the challenges that go hand in hand with being the editor of the Pilot & Today.
August 10, 2007at 2:05 p.m.
Moderator
Our first question is from online poster "routty."
August 10, 2007at 2:06 p.m.
How do you plan to cover the November City Council elections and the campaigns so voters have the most information possible to make decisions?
August 9, 2007at 9:03 a.m.
Brent Boyer
That's a good question, routty. In my five years at the Pilot & Today, we traditionally have published a separate Election Guide for our readers, and I plan to continue that this fall. The Election Guide will provide stories on each race and ballot question. Also included will be candidate bios and short question-and-answer sessions on pertinent issues.
I'd also like to see the Pilot & Today host a candidates forum, as we have in past years. I think it's incredibly valuable for our county's voters to be able to see the candidates in action, so to speak, answering questions about what the voters believe are the most important issues facing our cities, schools and county.
Through our Web site and acquisition of Steamboat TV 18, we also have some exciting opportunities to provide readers and viewers with video of candidate debates and other events. Whereas those events typically are seen only by the most dedicated and interested voters, broadcasting such content through the Web site and TV station can reach a much larger audience - and allow them to see it when it's most convenient for them.
Of course, we also will continue to cover the races thoroughly in our daily newspaper.
August 10, 2007at 2:14 p.m.
Moderator
Speaking of politics, conservative columnist Ann Coulter continually draws debate from readers, about whether her column belongs in the Sunday Pilot. What is your take on Coulter? Should she stay or should she go?
August 10, 2007at 2:16 p.m.
Brent Boyer
I've traditionally been one to always error on the side of open discourse. I also was one of the people who urged Scott Stanford to begin running Coulter's column side by side with Maureen Dowd's in our Thursday newspaper.
That said, I believe Coulter's rants often overstep the line of what is rational, intelligent commentary. Dowd certainly can be accused of the same at times. To get to the meat of your question - whether Coulter will continue to appear in the pages of the Steamboat Pilot & Today - I plan to continue to print her column in the immediate future. That doesn't mean that can't or won't change.
August 10, 2007at 2:22 p.m.
Moderator
A very controversial issue this year arose from the newspaper's publication of inflammatory e-mails written by John DeVincentis, a Steamboat Springs School Board member and former principal of Strawberry Park Elementary School. Publication of the e-mails led to a failed effort to recall DeVincentis and months of public debate. As a former education reporter and current editor, Brent, evaluate the newspaper's coverage of the DeVincentis e-mails. Do you think it was fair and unbiased?
August 10, 2007at 2:22 p.m.
Brent Boyer
To be clear, I was in New Zealand when the e-mails were leaked to the newspaper and the decision to publish them was made. The stories about the DeVincentis e-mails appeared in the pages of this newspaper for nearly five weeks before I was back in the country and back in the office.
That said, I support the newspaper's decision to publish the e-mails, particularly given John's history with superintendents in this district, his status as an elected official, the taxpayer money that has been spent to deal with John's issues with Steamboat superintendents, and because John sent the e-mails from his work computer while an employee of the Steamboat Springs School District.
However, I don't think the coverage was always balanced. I think more should have been done to address the release of the e-mails and the motives behind their release. Much of that information eventually was printed, but not until the district released its investigation report. We should have done a better job investigating the issue ourselves.
August 10, 2007at 2:32 p.m.
Moderator
This next question is a little bit lighter. Many of our readers have asked us what happened to Autumn Phillips, who was slated to return to the Pilot & Today in her former position as the 4 Points writer. Where is Autumn now, and what lies ahead for 4 Points?
August 10, 2007at 2:32 p.m.
Brent Boyer
I'm pleased to say that Autumn has accepted a position as editor of a new daily newspaper in Grand County. It's a great opportunity for her, and in my opinion, it was the right move for her career. A talented young reporter named Margaret Hair has been hired as our next 4 Points writer, and she'll start Aug. 20. Margaret led a successful entertainment section at the student newspaper at the University of North Carolina-Chapel Hill, and she has some great ideas for 4 Points. I'm excited to get her on board, and I think our readers will be, too.
August 10, 2007at 2:37 p.m.
Moderator
Thank you for correcting me earlier, Brent, when I mistakenly wrote that Coulter appears in the Sunday Pilot, rather than Thursday's Today.
On that note, readers often criticize newspapers for inadvertant mistakes. What is your plan for keeping the Pilot & Today free from misspellings, poor grammar and other errors?
August 10, 2007at 2:40 p.m.
Brent Boyer
Sorry....our Web site went down temporarily.
To be clear, we - nor any newspaper - will ever be perfect when it comes to misspellings, grammatical errors and other mistakes. We simply are responsible for too much copy on a daily basis to always be perfect. But what we must do is put systems in place to prevent and catch as many errors as possible before they appear in print. That includes impressing on our young reporters, photographers and copy editors the significance of their work and their role in the community. There's nothing worse than going to the grocery store and bumping into the source whose name you misspelled a day earlier. Our credibility is at stake every time we make such a mistake.
August 10, 2007at 3:06 p.m.
Moderator
That concludes our chat. Thanks for your time, Brent, and good luck in your new role.
August 10, 2007at 3:08 p.m.
Brent Boyer
Thanks, Mike. I encourage anyone with questions, comments or criticisms about the Pilot & Today to call me at 871-4233 or e-mail bboyer@steamboatpilot.com. Thanks for your time.
August 10, 2007at 3:10 p.m.